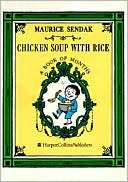 Sendak, Maurice.
Chicken Soup with Rice: A Book of Months.
1962.
Scholastic, Inc.
Guided Reading Level: M
Today is Maurice Sendak's 81st Birthday! Sendak is famous for many of his books...
Where the Wild Things Are, In the Night Kitchen,
and
Nutshell Library
are among some of them. However, to honor him during his birth month, I'm feature one of his other well known books,
Chicken Soup with Rice: A Book of Months.
I could totally see myself using this in an early elementary classroom as part of calendar during circle time! It's perfect for many reasons...
The poems are short, sweet, and do correlate well with the different seasons!
It's repetitive in nature. Children will feel as though they can "read," which makes this book ideal for beginning readers!
The poems follow the calendar year as we know it: January, February, March, etc., all in order!
And to share a sample of the book with you, June's poem:
In June
I saw a charming group
of roses all begin
to droop.
I peeped them up
with chicken soup!
Sprinkle once
sprinkle twice
sprinkle chicken soup
with rice.
Lesson Plans to Pair with the Book: