National Rose Month takes place from June 1-30 to recognize American-grown roses, our national floral emblem. America's favorite flower is grown in all 50 states, and more than 1.2 billion fresh cut roses are sold retail each year.
-
The Teacher's Calendar, 2008-2009

Brisson, Pat.
Wanda's Roses.
1994.
Boyds Mill Press.
Wanda is one little girl who makes a big difference in her community! She takes matters into her own hand to do her part to clean up an abandoned city lot after finding what she believes to be a rosebush hidden beneath the loads of garbage. Wanda works to no end to clean up the lot where she has discovered the rosebush - hauling trash to the curb to give the rosebush fresh air and more sun that will help the rosebush bloom. She even waters the rosebush every day after school to be sure it has enough water.
However, the rosebush never truly blooms, but Wanda doesn't let this bring down her spirits. Instead, she invites all of the neighbors who helped her to clean up the lot for tea and muffins.
Please come
For Tea and Muffins
In Wanda's
Rose Garden
Saturday
Morning
at 9
The neighbors, worrying that Wanda will be disappointed if the roses haven't bloomed, brain-storm together and come up with a plan that goes alongside Wanda's to benefit the entire community. Saturday morning, they each arrive with a rosebush in hand to contribute to Wanda's Rose Garden, which has miraculously bloomed (with paper roses Wanda has made and tied to the rosebush with ribbons)!
This book would be perfect to get children thinking about what they can do to make their community a better place... it might also serve as a perfect introduction to a school-wide courtyard that the students would be in charge of maintaining!
Lesson Plan/Reading Activity
Johnson, Angela.
A Sweet Smell of Roses.
2005.
Simon & Schuster Books for Young Readers.
A young girl and her even younger sister, Minnie, get caught up in all the action surrounding Martin Luther King, Jr. and the Civil Rights Movements. They're so interested they slip out of the family house while Mama's still sleeping to participate in one of the marches that's happening in their community.
Throughout the story, the roses are a central symbol of one freedom that isn't withheld from the African-American population - "a sweet smell of roses." Minnie and her older sister smell this sweet smell as they sneak out of the house, as well as when they return home again, while they wait for Dr. King to speak, as they march past people who are screaming, shouting and saying,
"You are not right.
Equality can't be yours."
I think this book would be perfect for teaching children about the Civil Rights Movement. It also would be perfect when trying to show children about the concept of symbolism, as the smell of roses symbolizes freedom.
Lesson Plans/Reading Activities: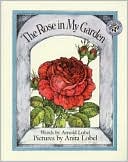 Lobel, Arnold.
The Rose in My Garden.
1984.
Greenwillow Books.
Guided Reading Level: M
This book, using a technique known as cumulative sentence,which is perfect for helping early readers predict what will happen next. The technique itself involves the story building on a pattern. It starts with one person, place, thing or event - in this case a rose in the garden. On each page, a new object is added to the garden but each previous item is repeated.
This is the rose in my garden.

This is the bee
That sleeps on the rose in my garden.

These are the hollyhocks high above ground,
That gives shade to the bee
That sleeps on the rose in my garden.

These are the marigolds orange and round,
That stand by the hollyhocks high above ground,
That give shade to the bee
That sleeps on the rose in my garden...
The story continues on, following along this same format throughout the entire length. I really enjoyed the story and it turns out kind of funny, as the bee causes a bit of mischief in the end. Definitely worth sharing! I've even turned the book in a listening activity for children... you can check that download out below
Lesson Plans/Reading Activities:
Winter, Jeanette.
September Roses.
2004.
Farrar Straus Giroux.
This book is a wonderful tribute to 9/11. Jeanette Winter captures one moment of those days following the terrorist attacks that impacted so much of America. Two women, commercial rose growers from South Africa, become stranded on September 11, as the Agriflowers & Floritech Expo USA they were planning to attend in New York is called off due to the terrorist attacks. This story portrays a true event of just one of the memorials that was set up following the attacks against the World Trade Center towers. Rather than letting the roses go to waste, the two women arrange them in two rectangle in Union Square to symbolize the two World Trade Center Towers that were destroyed.
The book is incredible because it not only deals with a very tender subject in U.S. history, but it does so in a way that shows the positive and the good in people at a time when our nation felt so uneasy and untrusting. Definitely worth sharing... and if not as a part of National Rose Month, then definitely keep this title in mind come September!
If you're interested in finding out more information about any of the books reviewed or if you'd like to purchase the books, click the cover image for a link to Amazon.com.