So, I'm a day late (and a dollar short!), but here's yesterday's review!
I've got 5 titles remaining from May that I want to get reviewed, so that's what I've got for you today!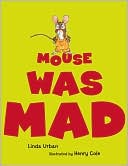 Urban, Linda.
Mouse Was Mad.
May 4, 2009.
Houghton Mifflin Harcourt.
A little mouse is mad!
However, being hopping mad doesn't result in much satisfaction for mouse, as when Hare tries to teach him how to hop, he winds up in a mud puddle. This makes mouse even madder...
When he still doesn't feel better about being mad, Bear tries to teach him how to stomp. Again, Mouse's quest in unsuccessful, as he isn't able to shake the trees and rumble the earth. Again, Mouse winds up in a mud puddle. Now Mouse was really, really mad. Screaming mad. Bobcat, being kind enough, has offered to help Mouse be screaming mad, but he's just not loud enough and loses his balance! Winding up in yet another mud puddle, Mouse is really, really, really mad!
Rolling-around-on-the-ground-mad.
So, hedgehog offers to show him how to make his body into the perfect sphere. When Mouse attempts show just how rolling-around-on-the-ground mad he really is, he winds up in the muckiest mud puddle yet. Now, he's
Standing-still mad.
Mouse did not hop. He did not stomp.
He did not scream or roll on the ground.
He stood very, very still.
All of the animals that tried to help him are impressed by how he's able to stand so still, so quietly! They're so impressed and inspired, they they even attempt to be standing-still mad! However, they don't have any more luck with being standing-still mad than Mouse had being hopping mad, stomping mad, or rolling-around-on-the-ground mad. Mouse is no longer mad, as he has now discovered his own way to deal with his emotions that works just for him!
This book is perfect to show children that there are various ways to deal with feelings and emotions... they all need to find their own way to handle their feelings and express their emotions - a way that works just for them and produces the results they need to successfully handle and get through what they're feeling!
I created a companion worksheet to use with this book! It's a matching and writing activity. Children are asked to match the animal from the story to it's method of dealing with anger. When finished with that, students are asked to choose which why they think would be most effective in dealing with anger and why. The worksheet, a word document, can be downloaded by clicking
here
.

Say, Allen.
Tea with Milk.
May 4, 2009.
Houghton Mifflin Harcourt.
This a really sweet story - reminds me of a love story, only written for children... however, it's a sweet "love" story, in which Allen Say ultimately shares with readers the main event leading up to his birth - his parents first meeting, their dating and then their marriage. There is also a great deal of Japanese culture added in to the story as we see how his mother deals with being introduced to Japan after having been born and raised in San Francisco.
This story would be best used when teaching children about other cultures and how they differ from our own... very educational! Used along side Allen Say's other works, this would make for a great addition to a unit on life in Japan or life as a Japanese-American!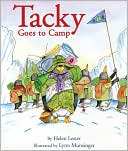 Lester, Helen.
Tacky Goes to Camp.
May 4, 2009.
Houghton Mifflin Harcourt.
Tacky heads off to summer camp at Camp Whoppihaha, even though it didn't quite look like summer in Nice Icy Land! Once at camp, they partake in a whole variety of fun activities - rock climbing, synchronized swimming, archery, arts and crafts, and canoe riding. At night, around the campfire, Tacky and his friends sing the camp song, eat s'mores... even scary stories! Tacky's scary story was called "BEWARE THE BEAR" but it proves to be not so scary... that is, until much later when when there suddenly comes a
THUD...THUD...THUD...THUD... and a Great Growly voice
Now, all the penguins really must BEWARE the bear! However, you'll have to share the book with the children to find how how the penguins get out the mess they're in!
I think that children will really love this book, especially if they have read any of the other "Tacky" books, all of which are listed below! If you're looking for an activity to go along with the book, perhaps children could do a writers notebook entry creating their own scary story!
Other Tacky Books: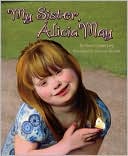 Ling, Nancy Tupper.
My Sister, Alicia May.
May 1, 2009.
Pleasant St. Press
This book is great for a whole slew of reasons! Rachel shares with readers her little sister, Alicia May. Alicia May is representative of the more than 400,000 people with Down Syndrome living within the United States. Throughout the story we see Alicia May as a regular child - taking walks to get the mail, enjoying horses and dogs, visiting the zoo... Rachel even expresses that she gets annoyed with her sister just like "normal" siblings.
When the goal for children with Down Syndrome is mainstreaming the children into society, this book would be the perfect example to show that while children with Down Syndrome may, at times, have special needs, they're no more special than the rest of us! It would also be a great pick for siblings and peers of children with Down Syndrome to show all the things that these children are capable of!
Williams, Vera B.
A Chair for Always.
May 12, 2009
HarperCollins.
Rosa, her mother and her grandmother return in this sequel to
A Chair for My Mother
and it's no less disappointing! If you haven't read
A Chair for My Mother
, Rosa introduced her readers to a coin jar where she and her mother pooled their change to save up for a new chair after all of their old furniture burned in a house fire. They worked along side each other at the diner where her mother worked and all of their change went into the jar.
Now, Rosa returns and this time, they're awaiting and enjoying the arrival of yet another family member - another person to cuddle in the chair with and share memories. Rosa wants to be sure that cousin Benji will experience the chair just as she has growing up. When grandma suggests reupholstering the chair and then mother suggests saving up for a brand new chair, Rosa makes is know that she doesn't want the chair reupholstered or replaced, as it "holds" all of those memories.
If used in the right manner, children will take a lot from this story - it's not an object that makes the memories, but rather the person who holds the memories in their heart that's most important!
If you're interested in finding out more information about any of the books reviewed or if you'd like to purchase the books, click the cover image for a link to Amazon.com.