Okay... so as I've been reading about Johnny Appleseed(John Chapman), I've discovered that his real death anniversary is March 18, 1845 and March 11, 1845, as my
Teacher's Calendar
book told me. So, since I've got this post all planned, books all ordered to read and review and have the rest of my month planned, I'm going to go ahead and post my reviews today. Perhaps you'll have a chance to check out a couple of these and share them with the kids come
next
Wednesday, March 18!
Appleseed was the planter of orchards and friend of wild animal, and was regarded by Native Americans as a great medicine man. To commemorate his death, we now celebrate Johnny Appleseed Day.

Lindbergh, Reeve.
Johnny Appleseed: A Poem.
1990.
Little, Brown and Company.
The canvas style illustrations and patchwork quilt that borders rhyming refrains of text perfectly complement this poem written by Reeve Lindbergh and illustrated by Kathy Jakobsen. This book would definitely hold a place in any classroom, as Johnny Appleseed was a real person who did indeed travel across the country to plant apple trees.
Appleseed travels across the country spreading apple seeds from Massachusetts to the Midwest. The poem recalls one of the legends that surround his travels, as he visits with one local family and the lasting impact he has had on that family's life. As a man with a mission, this story would be a great read-aloud and a springboard for discussion about American legends and the people who helped American life become what it is!
Kellogg, Steven.
Johnny Appleseed: A Tale Retold and Illustrated.
2008.
Harper Collins Publishers.
I think, after reading this version of the Johnny Appleseed legend, that it will be a favorite among children. The illustrations along with the recollections of Appleseed that his 'friends' share of him will capture their attention with no doubt!
In a different manner, Kellogg tells the legend of Johnny Appleseed - how his trees came about and the importance he played in the life of Indians and those involved in the westward expansion. This is a wonderful telling of the legend in a simple enough manner that young children will easily understand who Johnny Appleseed was and what he did for America!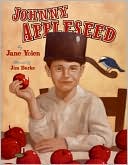 Yolen, Jane.
Johnny Appleseed: The Legend and The Truth.
2008.
Harper Collins Publishers.
This really is a truly wonderful telling of the story of Johnny Appleseed. Yolen begins from even before day one, before John Chapman was born, giving us true-to-life details about his parents. Through the use of rhyming prose and then story-like text, she supplies readers with a great deal of information relating to what made Johnny Appleseed the legend he has become. Along with each page of the history, Yolen gives facts to support the legend.
While this book may be most suitable for the 7-10 age range, with a bit of discussion, children as young as 5 should be able to grasp the legend of Johnny Appleseed. The book would also be great to use in showing children that legends evolve over time and that many, while giving about the same recollections, still do allow for different interpretations of what really went on.
Lesson Plans/Book Activities about Johnny Appleseed
If you're interested in finding out more information about any of the books reviewed or if you'd like to purchase the books, click the cover image for a link to Amazon.com.