It's National Puppy Day! So, whether your children wish for a puppy, have a new puppy or just love to read about puppies, this post is for you to share with them!
Lee, Spike and Tonya Lewis Lee.
Please, Puppy, Please.
2005.
Simon & Schuster Books for Young Readers.
Mom and Dad are likely to be laughing along-side their kids, as two young children, a boy and girl, finally meet their match-up in a mischevious puppy, who gives the children a run for their mommy - almost as much as the children probably give Mom and Dad!
After what I imagine to be some begging, a new puppy has a new home. The children try desperately to keep "puppy" inside and when they finally relent and allow him outside to play, he heads for the gate and sends the children on a high-speed chase through the yard. He's amused by their chase though, and when they finally get near him, he throws himself down in the mud. The result? A sudsy bath in the kiddie-pool, but even that promises adventure, as the cat suddenly appears and the puppy hops out of the pool, shakes off all over the children. The day ends well though, as the puppy finally comes when the children call him and even fetches a ball!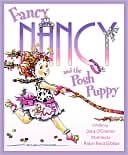 O'Connor, Jane.
Fancy Nacny and the Posh Puppy.
2007.
HarperCollins Publishers.
In another of O'Connor's
Fancy Nancy
series, the girls will be delighted as Fancy Nancy sets out on an adventure to convince the family that the dog for them is the papillon.
You say it like this: pappy-yawn. In French it means
butterfly.
As always, Nancy will be introducing your little girl to a whole new world of vocabulary that she'll surely try out in a sentence of her own before day's end!
My dear friend Amanda, over at A Patchwork of Books, got me hooked on this series from the very first book and I was certainly not disappointed in this one! Look for more of these books to be highlighted in the future!

Willems, Mo.
The Pigeon Wants a Puppy!
2008.
Hyperion Books for Children.
This is my second attempt at understanding the thought behind Mo Willems' Pigeon series, and I appreciated this one a bit more! The little pigeon is allowing readers to enter his mind and feel exactly what his thoughts are regarding wanting a puppy. The pigeon goes on to explain everything that he promises he'll do to make sure that a puppy is taken care of (watering it, giving it sunshine). He's dead set that he's got to have that puppy! Until... he hears a woof and comes face-to-face with what else, but a puppy!
The teeth! The hair! That wet nose! The slobber! The
claws! I mentioned the teeth, right? Really, I had no idea!
I've changed my mind.
I'll let you read on to find out what the pigeon wants next! It might just surprise you!
The one-sided dialogue allows readers the opportunity to imagine their responses to what the pigeon is saying/asking and might make for an interesting writing assignment for younger children or act as a good introduction to writing dialogue with older students.
If you're interested in finding out more information about any of the books reviewed or if you'd like to purchase the books, click the cover image for a link to Amazon.com.