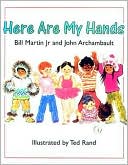 Martin Jr., Bill and John Archambault.
Here Are My Hands.
1987.
Henry Holt and Company.
Guided Reading Level: F

A writer for almost 60 years, Bill Martin Jr. is sure to please children and parents alike with this story. Geared for the 2-6 age range, this story introduces youngsters to their body (eyes, ears, arms, elbows, feet, etc). Much of text rhymes and the illustrations by Ted Rand are sure to please as well.
I think this would make a wonderful addition to a home library or to a preschool/early childhood education library, for those hands-on parents/educators who like to get children involved in their learning. Coupling this story with a game of Simon Says would make for a wonderful learning activity!
Martin Jr., Bill and John Archambault.
Barn Dance.
1986.
Henry Holt and Company.
Guided Reading Level: L
It's late at night, and everyone should be asleep. However, as an owl begins his night calls, a young boy is interested in just what he's calling. He soon finds out, as he watches through the windows as animals begin making their way to the barn on his family's farm. As the animals join for a good ol' country-style barn dance, the young boy watches them and is eventually asked to join in on the fun. The dance lasts all night until the owl begins his sunrise cry to alert the animals that people will soon be up and moving about.
This really was a cute story and shows how one young boy's imagination takes him to high places and provides him with great pleasure. I definitely think children will love this one!
Martin Jr., Bill and John Archambault.
Knots on a Counting Rope.
1966.
Henry Holt and Company.
Guided Reading Level: M

A young Native American boy, born blind, shares with us a tale his grandfather has shared with him about the night he was born and the race that showed just how much courage and strength he possesses. The counting rope represents the time that has passed and the number of times that the story has been shared between grandfather and grandson, for when the counting rope has been knotted from end-to-end, the grandson, known to us as Boy-Strength-of-Blue-Horses, will be ready to share the tale on his own.
This book would be wonderful in any Kindergarten through 4th grade classroom, as it teaches countless lessons to children: overcoming obstacles, the challenges of living with disabilities, the importance of self-confidence, and the ways in which Native Americans receive their names.
If you're interested in finding out more information about any of the books reviewed or if you'd like to purchase the books, click the cover image for a link to Amazon.com.