The true story of Astro, a Stellar Sea Lion.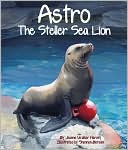 Harvey, Jeanne Walker.
Astro: The Steller Sea Lion.
August 2010.
Sylvan Dell Publishing.
Review copy provided courtesy of publisher.
Astro was abandoned by his mother (it is unsure what happened to her) at just a few days old. After being spotted alone on an island off the coast of California, Astro was rescued by a scientist and taken to The Marine Mammal Center, an agency that cares for sick, hurt and stranded marine mammals. Employees at the center worked to nurse Astro back to health and prepare him for his life in the ocean. However, Astro had other plans. He became attached humans, rather than other sea lions because he was so young when he was rescued. Despite the attempts of The Marine Mammal Center to release Astro back to his natural habitat, efforts failed and Astro was eventually moved to a permanent facility for marine mammals unable to survive in the wild. Astro now resides in a new home at the Mystic Aquarium in Connecticut.
Children will fall in love with Astro and his incredible story of forming attachment to humans and just what that bond meant for his survival. True stories of this nature allow children the opportunity to respect and care greatly for different forms of wildlife, and the story of Astro will be no exception. Add the story to a wealth of press released information about Astro and his adventures and children will instantly be captivated!
Learning/Reading Activity:
Learn more about Astro at the Mystic Aquarium website.
Share Meet Astro, the Celebrity Steller Sea Lion! by watching this video!
Sylvan Dell Publishing has also put out a complimentary Teaching Activities packet, available for download here. My personal favorite activity is found on page 20 & 21, a mapping activity and the calendar activity found on page 18.



If you're interested in finding out more information about any of the books reviewed or if you'd like to purchase the books, click the cover image for a link to Amazon.com. I am an Amazon Affiliate, so any purchases you make after clicking these images will result in my receiving a small percentage of the sale price!