Introduce your baby to vocabulary with the help of a character they'll be excited to grow up with - Curious George!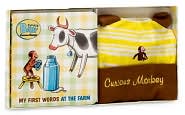 Rey, Margret and H.A.
Curious Baby: My First Words at the Farm.
May 2010.
Houghton Mifflin Harcourt.
Review copy provided courtesy of publisher.
The latest gift set for babies featuring Curious George contains the book, Curious Baby: My First Words at the Farm and a super-sweet "Curious Monkey" baby hat, complete with little monkey ears! The book, a 12-page board book, contains colorful images of all that one could imagine seeing on a farm. Each of the different farm objects is labeled, acting as an introduction to share new vocabulary with your littlest ones! The small book makes it ideal for a lap-time share!
Learning/Reading Activity:
Visit a local farm (yes, bring your baby along) and while they're riding snug in a stroller or carrier, point out all the different parts of the farm, labeling them each, so your child(ren) can begin to make the connection between objects and words, enhancing their vocabulary later on in life!



If you're interested in finding out more information about any of the books reviewed or if you'd like to purchase the books, click the cover image for a link to Amazon.com. I am an Amazon Affiliate, so any purchases you make after clicking these images will result in my receiving a small percentage of the sale price!