A Day on the Mountain
, sequel to
A Day in the Salt Marsh
, is a hit in my eyes!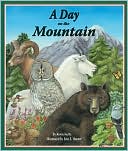 Kurtz, Kevin.
A Day on the Mountain.
August 2010.
Sylvan Dell Publishing.
Review copy provided courtesy of publisher.
A day spent visiting the mountain proves to be a very educational experience! Children will learn all about the flora and fauna at different points as they "hike" alongside author, Kevin Kurtz on this adventure. From black bears to to snow fleas, trees to lichens, there is a great deal to be learned in an interesting, unique way!
I think children will love this book! The illustrations are gorgeous and almost truly-captivating of the sights you would actually see on a hike up the mountain. The text itself is simple, yet intriguing and offers much room for children to become engaged and show their inquisitive nature, perhaps wondering what "above sea level" means or wanting to learn more about those snow fleas! Definitely a great science read!
Learning/Reading Activity:
Check out the 33-page teaching activity packet, provided courtesy of Sylvan Dell Publishing. It is packed with different activities that coincide with the story. My personal favorite can be found on page 21, Mountain True/False. Have children make predictions about each statement - is it true or false? Give children the answers, and then have them research and then write any false sentences to make them true!



If you're interested in finding out more information about any of the books reviewed or if you'd like to purchase the books, click the cover image for a link to Amazon.com. I am an Amazon Affiliate, so any purchases you make after clicking these images will result in my receiving a small percentage of the sale price!