It's August! And that means the back to school countdown is most likely on... whether your children head back before Labor Day or shortly after, it's really right around the corner... I have just 22 days of freedom left... anxious about starting the new school year, yet dreading what that means - the end of long summer days (or nights) as the case may be! I have several new back-to-school titles up for review, and decided to get them out there, hoping that you'll find the perfect one to share with your back-to-schooler!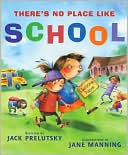 Prelutsky, Jack.
There's No Place Like School: Classroom Poems.
June 2010.
HarperCollins.
Review copy provided courtesy of publisher.
From suspsicious hot lunches (yuck!), to pop quizzes (oh, no!), to recess and best friends (hooray!), everything you love - and love to hate - about school is front and center in this collection of eighteen poems by thirteen celebrated poets. One thing's for certain: there's no place like school!

Children will love all that these poems have to offer - the humor and imagination are lively and flowing - perfect to lighten the somber back-to-school minds that overtake as the end of summer draws near. This is a perfect choice to embrace the start of a new school year!
Learning/Reading Activity:
Take the opportunity at breakfast for the last 18 days of summer vacation to share one of these poems. Download the discussion sheet, found here, to open each day with a discussion related to each poem!



If you're interested in finding out more information about any of the books reviewed or if you'd like to purchase the books, click the cover image for a link to Amazon.com. I am an Amazon Affiliate, so any purchases you make after clicking these images will result in my receiving a small percentage of the sale price!