Prepare your little princess for back to school with this new school title in the Pinkalicious series!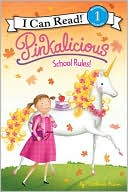 Kann, Victoria.
Pinkalicious: School Rules!
June 2010.
HarperCollins.
Review copy provided courtesy of publisher.
Pinkalicious has headed back to school for a new year - she really likes her teacher, Mr. Pushkin and she has some friends in her class... but she downright misses Goldilicious (her unicorn, nicknamed Goldie). With Goldie, school could be pinktastic, so Pinkalicious decides to take Goldie along with her one day. The morning starts out a bit on the rough side, but Mr. Pushkin agrees that Goldie can stay, as long as Pinkalicious can teach her the school rules. Of course, that's just what Pinkalicious does and together, they have a very successful day at school!
The book is cute - Pinkalicious fans will be thrilled with this newest title. While I wouldn't exactly call it a back-to-school book, it definitely would classify if you used it in such a manner to promote the idea of going back to school and stress the importance of following school rules.
Learning/Reading Activity:
Get your child ready for back-to-school by purchasing Pinkalicious: School Rules! (just $3.99 on Amazon.com). After reading, discuss the rules Pinkalicious and Goldilicious were expected to follow at school. Are they the same or different from what your child(ren) are expected to follow? Using the worksheet that can be downloaded here, work with your child(ren) to create a list of 10 rules for a successful school year after reading Pinkalicious: School Rules! The rules could include anything from the behavior you expect of your child at school, to rules regarding homework and bedtime routines that will help ensure a successful school year. When your child(ren) have completed a successful school year, throw them a Pinkalicous Party, as recommended by ThinkPinkalicious.com



If you're interested in finding out more information about any of the books reviewed or if you'd like to purchase the books, click the cover image for a link to Amazon.com. I am an Amazon Affiliate, so any purchases you make after clicking these images will result in my receiving a small percentage of the sale price!