Another new title in the Cat the Cat series!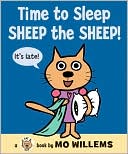 Willems, Mo.
Time to Sleep, SHEEP the SHEEP!
June 2010.
HarperCollins.
Review copy provided courtesy of publisher.
Cat the Cat is busy reminding all of her friends that it's time to get to sleep! However, when she stumbles upon her friend Owl the Owl, she quickly realizes not to say anything to Owl the Owl, as he's nocturnal and doesn't sleep at night!
Repetitive, simple text and basic, colorful illustrations make the book appropriate for beginning readers and the very youngest of children come bedtime! After one read, children will catch on and be reading this title to you!
Learning/Reading Activity:
Owl the Owl doesn't sleep at night! Talk with your children about why he doesn't - he's nocturnal. Discuss what it means to be nocturnal and then spend some time researching together animals that are nocturnal. If you're really up for an adventure, spend one night this summer pretending to be nocturnal yourself - start out the evening with a game of checkers, as Owl the Owl suggest to his sleeping friends!



If you're interested in finding out more information about any of the books reviewed or if you'd like to purchase the books, click the cover image for a link to Amazon.com. I am an Amazon Affiliate, so any purchases you make after clicking these images will result in my receiving a small percentage of the sale price!