A unique way to help children understand cancer.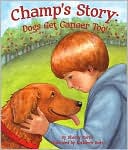 North, Sherry.
Champ's Story: Dogs Get Cancer Too!
August 2010.
Sylvan Dell Publishing.
Review copy provided courtesy of publisher.
Cody and his dog, Champ, have a wonderful relationship, spending lots of time together. One day, Cody notices a lump on Champ and decides to take Champ to see her doctor. The news isn't good - Champ has cancer.
Champ's Story: Dogs Get Cancer Too!
allows children the opportunity to understand what cancer is and what it means for those suffering. Together, Cody and Champ share with children about the diagnosis, treatment and side effects of cancer to a "patient."
This is a wonderful story for children who are experiencing dealing with cancer - either themselves, a loved one or a pet. It simplifies what cancer is all about in a way that children will easily understand, and simply answers many of the questions your child may have about the illness. Definitely a recommended read - even if your child/family isn't dealing with a cancer diagnosis, as cancer is an illness that touches so many these days.
Learning/Reading Activity:
Sylvan Dell has put out a teaching activities packet to use in collaboration with

Champ's Story: Dogs Get Cancer Too!

. My favorite activity from the packet to use with the book can be found on page 21, in which character education is brought up as a main focus. The activity encourages children to think about how a cancer diagnosis impacts the patient as well as his/her family.



If you're interested in finding out more information about any of the books reviewed or if you'd like to purchase the books, click the cover image for a link to Amazon.com. I am an Amazon Affiliate, so any purchases you make after clicking these images will result in my receiving a small percentage of the sale price!