To call public attention to charitable activities of clowns and the wholesome entertainment they provide, International Clown Week is celebrated annually, August 1-7. For more information, visit:
www.clownsofamerica.org
Dodds, Dayle Ann.
Where's Pup?
2003.
Dial Books for Young Readers.
Summary from Barnes & Noble:
Is Pup here?
Is he there?
We are searching
Everywhere!
Come join our silly circus and
Help us take a look.
We know Pup must be
Somewhere
Inside this funny book!
In a book that's full of charm, Dayle Ann Dodds and Pierre Pratt invite small readers to join the hunt for an elusive hound.
This book featuring a circus clown who's looking for his helper (Pup), makes a perfect read aloud when trying to teach children about rhyming words. The book is chuck full of them...
Can't see.
Go ask Lee.
He's launching Dee...

No clue.
Go ask Sue.
She's riding Blue...

Not here or there.
Go ask Claire.
She's catching Pierre...

Can't chat.
Go see Nat.
He's on the mat...
I will definitely keep this in mind when working with younger children and beginning readers!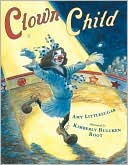 Littlesugar, Amy.
Clown Child.
2006.
Philomel Books.
Summary from Barnes & Noble:

What could be better than being a clown child? You juggle eggs all day and eat dinner with the Tallest Man East of the Missouri—and you never have to go to school!

But to Olivia, a real-life clown child, the glitter and glam of the circus life aren't so exhilarating. Her dreams are filled with simple things like bathtubs and homes that don't bump all over the prairie. But when a sudden blowdown storm roars over the big top, Olivia gets a glimpse of life outside of the circus.What would it mean to give it up?

At once funny and touching, Clown Child offers a colorful peek at a wisdom that can't be learned from books, and reminds us that home is not the place you live—it's the people you love.
This was a great story! I loved the message sent... that home is where the heart is and that you don't need to always fit in with everyone around you, but that it's great to be true to yourself! Definitely worth sharing with children, especially those suffering from low self-esteem!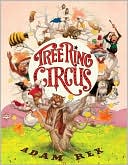 Rex, Adam.
Tree Ring Circus.
2006.
Harcourt, Inc.
Summary from:
Who knew one little seed could sprout such mayhem?
Who knew that a little runaway clown could cause such a ruckus and eventually cause the tumble of a tree that grew from a seed three miles out of town. The story would make for an interesting math lesson on addition, as we watch the animals accumulate in the tree after two apes steal the keys and unload the circus trucks beneath the tree. The book is also perfect for a read-aloud, as it's humorous to read with children!
If you're interested in finding out more information about any of the books reviewed or if you'd like to purchase the books, click the cover image for a link to Amazon.com.