Well, it's just about time to get another (hopefully) successful school year underway. What better way to get the kids back in the swing of school than to buy them a new set of student resources to ensure they have the very best for the start of a new year? These resources, all from Houghton Mifflin Harcourt Publishing, are released today and can be purchased through Amazon.com. I not only recommend all of the resources, I've also provided some activities to ensure that children are able to make the most of the materials!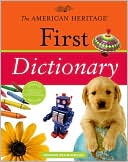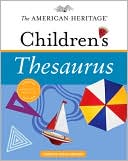 The American Heritage First Dictionary
The American Heritage Children's Thesaurus
Release Date: August 3, 2009.
Publisher: Houghton Mifflin Harcourt
Age Range: 6-9
My thoughts:
Dictionaries and Thesauri alike are great resources for children for a variety of reasons! They allow children to solve the problem of what a word means or another word that means the same thing on their own, rather than simply asking an adult! Even as a substitute teacher, I am always being asked by children as they're reading or writing what a word is or how to spell a word. I always send them packing to a dictionary or thesaurus rather than just giving them the answer they're looking for. I firmly believe that if you have to work to discover the answer, you're more likely to remember it! If you teach children this at a young age, I think they'll find their way in the world as successful, problem-solving adults!
Summaries from Barnes & Noble:
The American Heritage First Dictionary

This newly updated, award-winning dictionary gives children confidence as they learn to read. More than 2,000 entry words are clearly defined, and 850 full-color photographs and drawings enhance the text for today's visually sophisticated young readers.
What I really like about this book is the illustrations that are included for children who are beginning readers, who need just that little bit of reassurance!
The American Heritage Children's Thesaurus
With more than 4,000 entries and 36,000 synonyms, this updated edition of the award-winning American Heritage Children's Thesaurus encourages young writers to think analytically about word choice. Synonyms are divided into two groups: "best choices" and "other choices," so children can find the right word for every context. Every sense of each entry word is illustrated by an example sentence showing typical usage. Helpful feature notes and more than 150 full-color photographs make this the most appealing children's thesaurus on the market.
The beginning pages of the thesaurus provided children with information about what a thesaurus is, reasons for using one and even determining which is the best word for you. The entire book is a huge wealth of information, but I definitely love all the help that is provided for children who have never used a thesaurus before!
Dictionary and Thesaurus Activities for Young Children: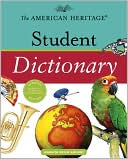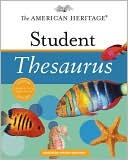 The American Heritage Student Dictionary
The American Heritage Student Thesaurus
Release Date: August 3, 2009
Publisher: Houghton Mifflin Harcourt
Age Range: 9-12
As children age, their writing is expected to mature alongside them. Dictionaries and thesauri allow children an alternative to expand their vocabularies, while at the same time creating exciting written works. These two update resources from Houghton Mifflin Harcourt will give children the tools they need to become successful writers for the remainder of their school years.
Summaries from Barnes & Noble:
The American Heritage Student Dictionary

Specially designed for students in grades 6-9, this popular dictionary has been updated to reflect the latest developments in all areas of vocabulary. It contains more than 65,000 entries and dozens of frequently occurring new words, such as couscous, hijab, Hmong, LCD, and stem cell. Definitions are enhanced by hundreds of feature notes and more than 2,000 full-color photographs, drawings, and diagrams.
Although this is designed for older children... middle school and up, I would say it would be appropriate for children as young as 10. Because it's very likely that students have had previous exposure to using a dictionary, I think they would handle this edition just fine! They might even surprise you - if you put them up against something slightly more advanced, they'll likely step-up and produce higher quality of work themselves!

The American Heritage Student Thesaurus

This updated thesaurus offers middle school and high school students more ways to build writing skills. With 6,000 main entries and more than 70,000 synonyms, The American Heritage Student Thesaurus is the perfect resource for young writers at the middle school and high school levels. No other thesaurus for this age group offers as many synonyms, example sentences, or special features. In this updated edition, clear example sentences illustrate each sense of every word. Word Group features discuss related vocabulary for terms that have no exact synonyms, such as artist, island, and geology. Tips for young writers explain how to use the thesaurus to express their ideas with clarity and style.
I definitely liked how this is a step above The American Heritage Children's Thesaurus. Now that children have taken an interest in writing, they are ready for the next step in the writing process, doctoring their writing using different parts of speech and expanding their vocabulary! This is definitely a must have in the 3rd, 4th, and 5th grade classroom!
Mid-Upper Elementary Dictionary and Thesaurus Activities: