On this day, August 18, 1920, the 19th Amendment to the US Constitution was ratified, extending the right to vote to women.

McCully, Emily Arnold.
The Ballot Box Battle.
1996.
Alfred A. Knopf.
Guided Reading Level: P
Summary from Barnes & Noble:

From Caldecott medalist Emily Arnold McCully comes the inspiring story of Cordelia, a young girl whose relationship with her neighbor, the great suffragist Elizabeth Cady Stanton, inspires her to a remarkable act of courage.
We often read about these incredible women, who so much impacted the lives of women today, yet we often see the struggles faced by the less-ordinary girls who were fighting their own battles within, dealing with the inner conflicts faced by the laws around them during this time period. Cordelia allows us to see how "being a girl" impacted this young child's life - and I think children will really be able to connect to this story because the character fighting these inner battles is a child! Definitely worth adding to any Women's Rights Movement library!

White, Linda Arms.
I Could Do That!: Esther Morris Gets Women the Vote.
2005.
Farrar Straus Giroux.
Guided Reading Level: L
Summary from Barnes & Noble:

"I could do that," says six-year-old Esther as she watches her mother making tea. Start her own business at the age of nineteen? Why, she could do that, too. But one thing Esther and other women could NOT do was vote. Only men could do that.
If you have a determined daughter at home, this is the perfect book for her... encouraging young girls to reach for their dreams, rather than sitting back and letting the boys tromp all over her! Not only does the book perfectly depict the way women felt at a time when women's rights were nil, the book realistically portrays the fight for women's rights, most specifically, the right to vote! A must have for young girls and teaching about the Women's Rights Movement!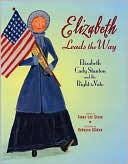 Stone, Tanya Lee.
Elizabeth Leads the Way: Elizabeth Cady Stanton and the Right to Vote.
2008.
Henry Holt and Company.
Summary from Barnes & Noble:
Elizabeth Cady Stanton stood up and fought for what she believed in. From an early age, she knew that women were not given rights equal to men. But rather than accept her lesser status, Elizabeth went to college and later gathered other like-minded women to challenge the right to vote.Here is the inspiring story of an extraordinary woman who changed America forever because she wouldn't take "no" for an answer.
This is a third wonderful book to use when teaching about women's voting rights or the Women's Rights Movement. What I liked the most about this was that the book shows women living life the "right" way - Elizabeth continued to do what was expected of her by law, while at the same time lobbying in a respectable manner to try and change not only her life, but the life of all women... the way it was written kind of reminded me of MLK and his non-violent ways!
Related Learning Activities: