Well, you know vacation is over when life appears to be more hectic than it was
before
the vacation even started! Arrived home about 12:15am Sunday morning... by 9:00pm we'd had such heavy rain that the basement was flooded with about 4" of water... only to be followed by about 2" more on Monday afternoon. Now that we're mostly dry down there, the whole mess has to be cleaned and mopped... However, since I missed the first two planned posts of this week, I'm taking a break from disaster clean-up and getting today's post out!
It's Mary Ann Hoberman's birthday today... Many of you are probably wondering who she is... I was too, at first! Then I received an ARC copy of her latest book, a middle-grade reader titled
Strawberry Hill
. The book was released July 1. However, in my search for Mary Ann Hoberman books, I discovered that's she's also authored several children's picture books! I
really
enjoyed all of the ones that I read and hope that you'll find them just as read-worthy!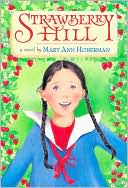 Hoberman, Mary Ann.
Strawberry Hill.
July 1, 2009.
Little, Brown and Company.
Summary from Barnes & Noble:
When ten-year-old girl Allie learns that her family will be moving from their two-family home to their very own house in the country, she's hesitant until she finds out they will be living on a street with the magical name of Strawberry Hill. That changes everything! From her struggle to find a new best friend, to her quest for acceptance at her new school, Allie takes readers on her journey to make Strawberry Hill feel like home.
Moving is hard on children... and this book makes the perfect companion for any young girl in the midst of moving to a new home - a new school. As I was reading this book, I could actually feel myself taking on the role that Allie plays (yes, even as a 26 year old, I could put myself in the shoes of which this 10 year old's is walking). This was an incredible story that I really enjoyed... I think the girls will enjoy it even if they're not in the midst of a family move!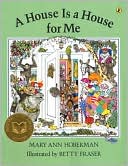 Hoberman, Mary Ann.
A House Is a House for Me.
1988 (1982).
Puffin Books.
Guided Reading Level: K
Summary from Barnes & Noble:

Where does everyone - and everything - live? A House Is a House for Me is a rollicking rhyme about houses. Some of the houses are familiar, such as an anthill and a dog kennel, while others are surprising, such as a corn husk and a pea pod. This longtime favorite is filled with pictures that parents and children will want to look at again and again in a beautifully produced, deluxe fullsized edition.
I was not at all familiar with this book (despite is mentioned popularity) when I originally scheduled it for my blog review. However, in reading it, I found this book absolutely perfect for teaching children about different habitats and dwellings! From themeselves, to indians, to vegetables and fish, children will learn about all the different places that can be considered homes. Alongside the learning that takes place, children and parents alike are sure to get a chuckle out of the rhymes within! Definitely add this to your child's TBR pile!
Lesson Plans:
Hoberman, Mary Ann.
The Seven Silly Eaters.
1997.
Harcourt Brace & Company.
Summary from Barnes & Noble:
Peter wants only milk, Lucy won't settle for anything but homemade lemonade, and Jack is stuck on applesauce. Each new addition to the household brings a new demand for a special meal. What's a mother to do? "[A] highly comic rhyming romp that surprisingly (and nicely) twists into a birthday story."
My poor mother would whole-heartedly connect with this story... even though there were only 3 of us kids... however, I can't even begin to describe how many times she's cooked different meals to please us kids! I almost think mothers will enjoy the story more than children! It is however, very funny and will make for a wonderful read-aloud!
Lesson Plans: