Yesterday was Picnic Day in Australia. The first Monday in August celebrates a bank holiday in New South Wales and Picnic Day in Northern Territory, Australia. I think we should celebrate Picnic Day some day through this week! Pick your day!

Garcia, Jerry.
The Teddy Bears' Picnic.
1998.
HarperCollins Publishers.
Guided Reading Level: G
Summary from Barnes & Noble:
The legendary Jerry Garcia joins with David Grisman to create a down-home, Dixieland version of this classic song. A cassette recording is packaged in the back of this new picture book version of everyone's favorite picnic in the woods. Best-selling artist Bruce Whatley has created a rollicking collection of singing, dancing and picnicking teddy bears with a slight 60's twist. So come along—it's time for the Teddy Bears' Picnic!
I received this book from an online "Literati friend" back in the winter months when I first showed her my blog and shared my love of reading and sharing kids literature with children in creative ways. As a
huge
Grateful Dead and Jerry Garcia fan, she shipped me this book complete with an audio recording to add to my collection. I immediately set to work planning on how this could be most effectively used with children... what did I come up with? Have a teddy bear picnic of your own. Invite all of the children's cousins and/or friends as well as their parents and ask them each to bring their favorite teddy bear along. Pick the perfect picnic spot and set up. Perhaps bring along an audio recording of the song and the book to share, before having your feast. Then, when you get home, ask the children to either write a paragraph about or draw a picture (if they haven't quite mastered writing) showing their teddy bear's favorite part of the picnic. This requires children to use their imagination about what their teddy bear might have enjoyed the most.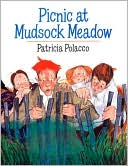 Polacco, Patricia.
Picnic at Mudsock Meadow.
1992.
G.P. Putnam's Sons.
Guided Reading Level: O
Summary from Barnes & Noble:
It's time for the annual Halloween picnic. But the kids are worried about the ghost of Titus Dinworthy. Except William, who's pretty sure old Titus is just swamp gas; it's Hester Bledden he's worried about. Every time William is about to win a contest, Hester shows up, sticks out her tongue, and shouts, "Peeee youuuuu!" But when something eerie rises out of the swamp, William gets a chance to show both Titus and Hester what a boy from Mudsock Meadow is made of.
Okay... so it is technically a Halloween book... but it's also a picnic book. I'll tag it Halloween so that if you go back to browse for Halloween reads to share with the kids in October, it'll be there as well! Despite the Halloween-themed picnic, this book got me imagining a block party picnic (if you get along with the neighbors, anyways)!
Pick a date sometime before summer's end (or you could go with Halloween and just start the planning now) and organize the fun.

Rather than a pumpkin carving contest, you can do a watermelon or any melon carving contest.
A fishing booth is perfect for summertime!
If you have no pumpkin seeds to spit for a length contest, try using watermelon seeds.

Tug of war is also a great summer picnic game.
A dress up contest also works for a summer picnic!

Then everyone can go jump in the lake, pool or pond to cool off!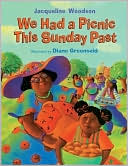 Woodson, Jacqueline.
We Had a Picnic This Sunday Past.
1997.
Hyperion Books for Children.
Summary from Barnes & Noble:

Teeka's family had a picnic this Sunday past. Everyone was there, from mean old cousin Terrance who put fake flies on the sweet corn, to Bible-toting Reverend Luke to Auntie Kim (Teeka's all-time favorite). And they were all dreading the arrival of Cousin Martha and her pie, which was always a bit on the dry side (but you had to eat every bit so you didn't hurt her feelings). But this year, where was Cousin Martha? And where was that dried-out apple pie?
This a really cute (and funny) story! It's definitely worth sharing, perhaps after a family-reunion picnic of your own! Children could compare their picnic to the one that Teeka's family had - what did they enjoy about their picnic? What didn't they enjoy?
If you're interested in finding out more information about any of the books reviewed or if you'd like to purchase the books, click the cover image for a link to Amazon.com.