Born Richard Chester Brown at New York, NY, this author worked as writer and editor in Hollywood and New York before becoming known for his book for beginning readers, Flat Stanley, published in 1964. Many sequels followed, including Stanley in Space, Invisible Stanley and Stanley and the Magic Lamp. His books have sold nearly a million copies. He died at New York, NY, on December 1, 2003.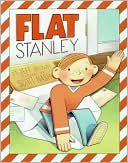 Brown, Jeff.
Flat Stanley.
2006 (1964).
HarperCollins Publishers.
Guided Reading Level: M
Summary from Barnes & Noble:
Meet Stanley Lambchop. He's an ordinary boy with an extraordinary problem. He's four feet tall, about a foot wide... oh, and half an inch thick. At first, being flat is fine. It's fun going in and out of rooms simply by sliding under the door. And it's exciting being mailed to your friends in California for a visit. But it's not always easy being different, and soon Stanley wishes he could be just like everybody else. Will he ever be normal again?
This book has been around for years... but my first experience with Flat Stanley did not actually come in reading this very first book in series, but rather the two newest books in the lastest series, Flat Stanley's Worldwide Adventures, written in Jeff Brown fashion! You can check out my raving posts
here
! In the mean time, you and your kids should definitely check out these books... they may just rank up there as some of my favorite books for kids (especially after discovering the activity below on another blogger's blog)!
Complete
Flat Stanley
book list:
Flat Stanley
Stanley and the Magic Lamp
Stanley, Flat Again
Stanley in Space
Stanley's Christmas Adventure
Invisible Stanley
Flat Stanley Magic
Flat Stanley's Worldwide Adventures #1: The Mount Rushmore Calamity
Flat Stanley's Worldwide Adventures #2: The Great Egyptian Grave Robbery
Flat Stanley's Worldwide Adventures #3: The Japanese Ninja Surprise
Flat Stanley's Worldwide Adventures #4: The Intrepid Canadian Expedition
And for teachers:
Flat Stanley Novel-Ties
***Learning Activities/Literature Tie-Ins***

A fellow blogger friend of mine, Gabby at
The Work of Childhood
, is getting set-up to start the Flat Stanley game. The details are as follows:
I was trying to figure out the best way to handle this for each of the kids to have their own Flat Stanley going around the U.S., and I think this is how it can work:
Each child decorates their own Flat Stanley to mail.
Prepare an envelope to mail, containing your Flat Stanley.
I will send out an address via email to each participant (making sure they are in separate states, etc).
Then, mail your Flat Stanley to your participant and wait for your friends Flat Stanley to arrive at YOUR house!
Once you receive a Flat Stanley, take him out with you where ever you go! Make sure to take pictures to email to the 'parent' of Flat Stanley. Instead of including journals, pictures, etc in the mail, we can conduct that via email and just let Stanley himself go around through the post offices ;)
Each Flat Stanley will spend a week at each participants house, so depending on how many participants we get, will determine how long it is until Flat Stanley returns home!
To join in on this AWESOME activity, head on over to Gabby's blog,
http://www.workofchildhood.com/2009/08/flat-stanley-wanna-play.html
or shoot her an email @
twocblog@gmail.com
no later than Friday, August 28.
You can either join in on Gabby's fun at
The Work of Childhood: Flat Stanley - Wanna Play?!
Or you can check out these independent activities: