August 1-31 marks a monthlong campaign reminding Americans of the important role that good vision plays in a child's ability to read and learn.
-The Teacher's Calendar, 2008-2009
Today's book focus on vision and eyeglasses... hopefully you'll find them useful!
Silverstein, Dr. Alvin.
Can You See the Chalkboard (My Health Series).
2003.
Franklin Watts.
Summary from Barnes & Noble:
Describes the human eye and how it functions, various visual problems and how they are corrected, and how to take care of one's eyes.
This book is very educational about eye sight and keeping your eyes healthy. I think it would be most appropriate for older children who are interested in non-fiction, science-related books.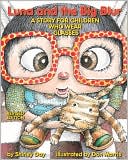 Day, Shirley.
Luna and the Big Blur: A Story for Children Who Wear Glasses.
2009.
Magination Press.
Summary from Barnes & Noble:
Do you remember the first time you had to wear glasses as a child? For the thousands of children today who experience this unsettling change in their lifestyle, Luna and the Big Blur helps them feel good about their glasses and themselves. Luna is a young girl who hates her glasses and decides she won't wear them. This delightful story describes the many mishaps that occur when Luna leaves her glasses at home. She eventually learns to accept her nearsightedness after a supportive talk with her father, who is able to show her that she can feel good about all of her own special qualities. All children will be able to relate to Luna's feelings of being different, and will turn to her story again and again to lightheartedly resolve the many issues that plague them when they feel that they don't fit in. Also included is an introduction for parents.
This book is perfect for children who are now wearing glasses for the first time - trying to get used to the different appearance, the teasing that other children usually begin... When a child can see that others can relate and feel the same way that they do, I think they're more apt to accept the new changes in their life! Keep this in mind if you have a little one does or might someday have the need to wear glasses.
If you're interested in finding out more information about any of the books reviewed or if you'd like to purchase the books, click the cover image for a link to Amazon.com.