A perfect story for your clever, inventive child!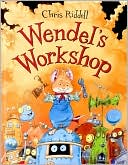 Riddell, Chris.
Wendel's Workshop.
February 2010.
HarperCollins Publishers.
Review copy provided courtesy of publisher.
Little Wendel could be considered the inventor of all inventors... at least to those young children out there who will absolutely love this story! However, along with Wendel's inventing ways comes Wendel's untidy workshop - he's so busy inventing, he doesn't have time to deal with the clutter and mess that quickly overtakes his workshop - when an invention doesn't work, Wendel opens the door to the rubbish chute and quickly disposes of them (to the backyard, anyway). As Wendel becomes more and more unhappy with the untidy conditions in which he is attempting his inventions, he decides something must be done. He goes about creating Clunk, a robot intended to keep his workshop Tidy. However, Clunk struggles at the job and Wendel quickly disposes of him, too! However, after Wendel recreates a newer, improved robot... who also proves less than worthy, ultimately leading Wendel to jump into the rubbish chute himself, just to escape. That's when the robot wars begin, as Wendel attempts to gain back the control of his workshop.
In a well-written, well thought-out story, Riddell takes children on an adventure, teaching them that ultimately not all inventions are a success, but that an unsuccessful invention shouldn't keep you from reaching out and trying again. Try, try again is the message easily took away from this delightful action-packed story that children are sure to love!
Learning/Reading Activity:
Challenge your child to create a "robot" of his/her own. More likely than not, the robot won't perform, but this will inspire your child(ren)'s creative juices to flow and will likely also encourage him/her to create a story about his/her own robot. Chances are you've got scraps of unused items scattered throughout your home. Ask your child to use his/her imagination and creativity to put together a robot of their own. Perhaps it's head might be an old, broken bicycle helmet... Or it's eyes might be some mismatched buttons that have no home of their own... This would be an interesting summertime project for your child(ren)!

If you're interested in finding out more information about any of the books reviewed or if you'd like to purchase the books, click the cover image for a link to Amazon.com. I am an Amazon Affiliate, so any purchases you make after clicking these images will result in my receiving a small percentage of the sale price!H