One author's unique thoughts on the story of how a plain white tom cat became a national celebrity!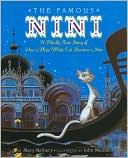 Nethery, Mary.
The Famous Nini: A Mostly True Story of How a Plain White Cat Became a Star.
June 7, 2010.
Clarion Books.
Review copy provided courtesy of publisher.
Based on a true story about a plain white tom cat who lived in Venice during the 1890's,
The Famous Nini: A Mostly True Story of How a Plain White Cat Became a Star
, allows children to see how possible it is to take a story that's been known for years and to look at it in a deeper light, asking the whys, as author Mary Nethery did.
No one knows

why

Nini became a star. So I asked myself the question "What does a cat have to offer that no other creature possesses?" The answer? A purr, one of the most primal and soothing sounds in the universe, a gift that only a cat can give. That's what led to this story. All of the notable visitors were real people who came to see Nini, but the events in the story didn't unfold in the same way that I have presented them.
While I was no where near familiar with Nini or his story, I do have to admit I was very intrigued when I first started reading... I didn't think this was the type of book I'd be able to finish (I know... it's a children's book. How hard can it possibly be to read the pages, but sometimes, I do struggle...)! However, I was very pleasantly surprised, and even more pleased when I saw the author's note at the end of the story that cleared up any questions I did have about the story. Children will fall in love with Nini as the main character and will love all of the ways in which a cat can provide a service of some sort to humans!
This is definitely a book worth sharing, which leads to my June giveaway!!!
HOW TO ENTER THE GIVEAWAY:
In a comment on this post,

share with me (and my readers) about a pet (or some other object) that acts as a soother to your child.

Who/what is the pet/object? How did this pet/object come to act as a soother to your child when he/she is upset or needing comfort?

Be sure to

leave an email address

along with your comment.
Deadline to enter is

Saturday, June 26th at 11:59PM EST

.

For an extra entry(or two)

: blog about this giveaway on your own blog

AND/OR

leave a tweet on your Twitter page and then leave a link to the post/tweet.
Contest is open to

U.S. Residents

only, sorry for any inconveniences!


If you're interested in finding out more information about any of the books reviewed or if you'd like to purchase the books, click the cover image for a link to Amazon.com. I am an Amazon Affiliate, so any purchases you make after clicking these images will result in my receiving a small percentage of the sale price!