Nursery rhyme-a-day - 16 nursery rhymes to share!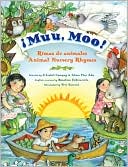 Ada, Alma Flor.
!Muu, Moo!
March 2010.
HarperCollins Publishers.
Review copy provided courtesy of publisher.
In
!Muu, Moo!
, Alma Flora Ada and F. Isabel Campoy have compiled a selection of sixteen animal nursery rhymes, shared in Spanish. Rosalma Zubizarreta has compiled the English version of the same sixteen. The animal nursery rhymes found within the pages of this particular title come traditionally from Spain, Latin American and the United States. The rhymes are fun, and beautifully illustrated, helping the youngest of children to make a connection between text and context clues found within the illustrations. The following is a list of animal nursery rhymes found within:
Martin Found a Mouse
Debajo de un boton
Little Brown Duck
Patito, patito, color de cafe
The Rooster Cock-a-Doodle-Dows
El gallo Espolon
A White Turtle Dove
Una paloma blanca
My Dear Little Rabbit
Mi conejito
My Donkey
El burro
The Meadow Toads
Los sapitos
The Cat and the Mouse
El gato y el raton
Fly Hushed Frog
La mosca a la rana
'Twas Half an Hour to Midnight
Las once y media serian
The Flea's Wedding
Las bodas de la pulga y el piojo
Chirp, Chirp
Cri-cri
Spring
Primavera
The Owl
La lechuza
Ramon and His Dog
Ramon y su perro
The Musical Cicada
La cigarra guitarrista

Bilingual books are quickly finding a place in my heart, as I have found out that I will have a child in my preschool class next year whose parents speak only Spanish. In order to ensure the success of this child (with the help of her parents), I want to be sure to reach out to them and make them feel comfortable in helping their child in any way possible. Providing that family with bilingual literature will allow them the opportunity to work with their daughter, and at the same time, pick up on a little bit of the English language they are working hard to learn! Because of this, this is another book that will certainly be included in my "literacy backpack" sets!
Learning/Reading Activity
:
Because nursery rhymes (and these in particular) feature lines containing rhyming words, use these nursery rhymes to reinforce the concept of rhyming! Download the following worksheet and, while you are reading, have your child(ren) point out (at least) one pair of words that rhyme from each individual nursery rhyme.



If you're interested in finding out more information about any of the books reviewed or if you'd like to purchase the books, click the cover image for a link to Amazon.com. I am an Amazon Affiliate, so any purchases you make after clicking these images will result in my receiving a small percentage of the sale price!