A wonderful, resourceful book for blended families!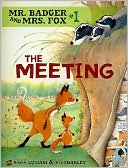 Luciani, Brigitte and Eve Tharlet.
Mr. Badger and Mrs. Fox #1: The Meeting.
April 2010.
Lerner Publishing Group.
Review copy provided courtesy of publisher.
Mr. Badger and his three children (Bristle, Grub and Berry) are perfectly content living in their burrow, despite having lost a wife/mother to a terrible illness. Mrs. Fox and her daughter (Ginger) are now facing the loss of their burrow on top of the separation of husband/father from the family. When the two (Mr. Badger and Mrs. Fox) decide to team up and help each other out, the children have a hard time adjusting to new family members. However, over time, they learn to accept each other and live together peacefully. The message here is very important... despite differences in appearance and lifestyles, new families can be started and blended peacefully with a lot of hard work and cooperation!
This is a wonderful story for parents who are bringing children into a new, blended family, as it shows that differences will still exist, and that sometimes there may be arguments, but that by working together, new families can be formed. This is definitely a book that I will keep in mind for my preschoolers, as many of them come from or enter into blended families at some point in their young lives!


If you're interested in finding out more information about any of the books reviewed or if you'd like to purchase the books, click the cover image for a link to Amazon.com. I am an Amazon Affiliate, so any purchases you make after clicking these images will result in my receiving a small percentage of the sale price!