Introduce the ABC's of Writing using
Written Anything Good Lately?
!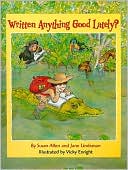 Allen, Susan and Jane Lindaman.
Written Anything Good Lately?
February 2010.
Lerner Publishing Group.
Review copy provided courtesy of publisher.
Written Anything Good Lately?
is an alphabet book of wonderful proportions! Taking readers on an adventure through an alphabet of written works, children are introduced to all sorts of writing which they may or may not be familiar with. Each letter of the alphabet not only introduces a type of writing to go along, but also gives a brief example of that writing style to give children a bit more to work with!
The book can be used with children of virtually all ages, as even though they may not recognize certain writing styles, children will delight in learning new words that start with each letter of the alphabet. Older children will quickly become immersed in learning that there really is a type of writing for each letter of the alphabet - from autobiography to zig-zags and zeros! I could see using this as a writing project with say, a third, fourth or fifth grade classroom, assigning each child a writing project and then compiling a classroom book titled, "What We've Written Good Lately!"
Learning/Reading Activity:
Challenge your child(ren) this summer to participate in the "Summer Writing Challenge," in which he/she actually completes a small writing piece for each letter of the alphabet, using the suggested writing methods (or create your own)! Directions and detailed activities for the activity can be found here. You can participate in the Summer Writing Challenge without even having read the book, so download the activity here!



If you're interested in finding out more information about any of the books reviewed or if you'd like to purchase the books, click the cover image for a link to Amazon.com. I am an Amazon Affiliate, so any purchases you make after clicking these images will result in my receiving a small percentage of the sale price!