"Dada is anything silly and surprising."
-Shelley Jackson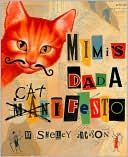 Jackson, Shelley.
Mimi's Dada Catifesto.
April 2010.
Houghton Mifflin Harcourt.
Review copy provided courtesy of publisher.
Mimi is a cat like no other - she is an artistic cat, looking for a home with an artistic human. When she comes upon Mr. Dada, she is determined he is the human she is meant to live with, as an artistic human must have an artistic pet! As Mimi sets out to show Mr. Dada that she is the pet for him, readers will find great delight in the adventures brought about by Mimi.
While this is a wonderfully written story and very entertaining, I struggled at first to understand and grasp what was going on. However, when I discovered the author's note at the back of the book, things started clicking. It was only after 2 rereads that I really got into the story and found the humor and enjoyment in it. I think in order to share the book with children, they really need to have some sort of understanding about Dadaist art - read the author's note to them first. Research dadaist art and see what you come up with. Then, read the story and discuss how the two mesh together perfectly. I think children will definitely be giggling about the adventures Mimi takes them on, but without an understanding of Dadaism, I'm not sure how much they'll comprehend!
Learning/Reading Activities:
Dadaism is explained and represented perfectly at Art Smarts 4 Kids: Dadaism
Check out the lesson plan found at Room 14 goes Dada! Art Lesson Plan. While it is intended for older children (grades 7 & 8), there's no reason you couldn't adapt it to be appropriate for younger children!
Check out Recycled Art, Dada Style, also at Art Smarts 4 Kids. Then, with your children, collect a variety of recyclables. Have your child use the recycled materials (or anything else hanging around without use) create a Dadaist piece of his/her own.
HOW TO ENTER THE GIVEAWAY:
In a comment on this post,

share with me (and my readers) the Dadaist piece your child has created.

Describe the piece and the process your child took to create the piece.

Then, in an email, addressed to: KateH12783@hotmail.com,

send me a picture of your child with his/her piece

. YOU DON'T NEED TO INCLUDE DETAILS ABOUT YOUR CHILD (i.e. Name, Age, etc). When submitting the photo, in the subject line, be sure to include "Dadaist Art Photo."

Be sure to

leave an email address

along with your comment.
Deadline to enter is

Wednesday, July 14th at 11:59PM EST

.

For an extra entry(or two)

: blog about this giveaway on your own blog

AND/OR

leave a tweet on your Twitter page and then leave a link to the post/tweet.
Contest is open to

U.S. Residents

only, sorry for any inconveniences!
Winner will be selected by special guest poster on

Friday, July 23rd

and will receive a complimentary copy of

Mimi's Dada Catifesto

!



If you're interested in finding out more information about any of the books reviewed or if you'd like to purchase the books, click the cover image for a link to Amazon.com. I am an Amazon Affiliate, so any purchases you make after clicking these images will result in my receiving a small percentage of the sale price!