I'm no fan of bats, but kids seem to be thrilled with even the idea of them!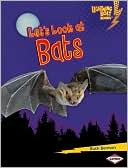 Berman, Ruth.
Let's Look at Bats.
September 2009.
Lerner Publishing.
Summary from Barnes & Noble:
What animal flies, has sharp claws, and hangs upside down to rest? Bats! But do you know what bats do at night? Or how they find food? Simple text and photographs introduce the physical characteristics, behavior, and habitats of North American bats.
This is a book that kids are sure to love. For some reason, the children I've talked to absolutely love even just the idea of bats. Not me! But I guess everyone's entitled to their own opinions... this book is full of informational background and photographs of bats that really does make learning about them much more fun! I guess it's a book I'll be keeping around!
Activity to Use in Collaboration with this book:

Halloween is right around the corner... and for those of you who do partake in the celebration, you know decorations are just as important as the candy that kids are after. After all, how much fun is Halloween without a few spooky decorations? Here, you will find directions to make a Halloween Bat Mobile decoration. All of the children can make one of their own and hang it above their bed for "bat-time" dreams at night! It looks pretty simple and would make for a great rainy-afternoon activity!

If you're interested in finding out more information about any of the books reviewed or if you'd like to purchase the books, click the cover image for a link to Amazon.com.