Throughout my years of substitute teaching I haven't had much interaction with Faith Ringgold as an author. I do recall reading
Tar Beach
during one of my Master's classes, but that's about it, so I was kind of looking forward to this post! Faith Ringgold is an incredible author who has the ability to bring historical events to life in a way that is appealing and engaging to children! Hopefully you'll enjoy these books as much as I do!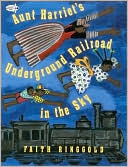 Ringgold, Faith.
Aunt Harriet's Underground Railroad in the Sky.
1992.
Crown Publishers, Inc.
Guided Reading Level: R
Summary from Barnes & Noble:
Cassie, who flew above New York in Tar Beach, soars into the sky once more. This time, she and her brother Be Be meet a train full of people, and Be Be joins them. But the train departs before Cassie can climb aboard. With Harriet Tubman as her guide, Cassie retraces the steps escaping slaves took on the real Underground Railroad and is finally reunited with her brother at the story's end.
This was a wonderful, wonderful book - I'm very impressed with it and will definitely be remembering this one for when I have an opportunity to teach about slavery and the Underground Railroad! It's an incredible story that I feel accurately depicts the Underground Railroad! Definitely worthy of classroom time!
Lesson Plans/Reading Activities:

Ringgold, Faith.
If A Bus Could Talk: The Story of Rosa Parks.
1999.
Simon & Schuster Books for Young Readers.
Guided Reading Level: P
Summary from Barnes & Noble:

If a bus could talk, it would tell the story of a young African-American girl named Rosa who had to walk miles to her one-room schoolhouse in Alabama while white children rode to their school in a bus. It would tell how the adult Rosa rode to and from work on a segregated city bus and couldn't sit in the same row as a white person. It would tell of the fateful day when Rosa refused to give up her seat to a white man and how that act of courage inspired others around the world to stand up for freedom. In this book a bus does talk, and on her way to school a girl named Marcie learns why Rosa Parks is the mother of the Civil Rights movement. At the end of Marcie's magical ride, she meets Rosa Parks herself at a birthday party with several distinguished guests. Wait until she tells her class about this!
What a creative way to teach children about the importance of Rosa Parks - a talking bus that was there on the day Rosa Parks sat in that forbidden seat! Kids are sure to love reading about this piece of history. It's definitely a book that belongs in the classroom for Black History Month!
Lesson Plans/Reading Activities: