On Thursday, October 8, the U.S. Senate passed a resolution declaring October 20 as the National Day on Writing. Established by the NCTE a National Gallery and the National Day on Writing:

highlight the remarkable variety of writing we engage in today;

provide a collection for research on whether writing today has risen to new highs or sunk to new lows; and

help us help others to write better.

Hershenhorn, Esther.
S is for Story: A Writer's Alphabet.
September 2009.
Sleeping Bear Press.
Source: Review Copy provided courtesy of Publisher
Summary from Inside Jacket Cover:
In S is for Story: A Writer's Alphabet, an A to Z journey through a writer's life and process, author Esther Hershenhorn masterfully connects the reader and the writer. Writers' tips and inspiring quotes from award-winning authors dot the entries, from A is for the Alphabet and D is for Drafts through K is for Four Kinds of Writing on to the end. All facets of being and becoming a writer at any level are introduced in rhyme and explained in simple expository text. Writing terms such as revision, voice, and word choice, story elements such as plot and character, and writing opportunities such as letters, journals, and notebooks are defined in easy-to-understand language.
J is for your Journal,
yours alone to write,
a record true
of what you do
morning, noon, or night.

A journal is a notebook for recording what
happens in your life and your reactions to those
events. You choose your writing time, theme,
style, readers. Be sure to not each entry's date
and setting. Revisiting your journal lets you
re-explore your life.
Imaginiative, colorful illustrations by artist Zachary Pullen vividly bring the poetry and prose to life. Readers of all ages will enjoy the depth and creativity expressed in these original compositions.
I have been a huge fan of Sleeping Bear Press' alphabet stories for some time now. However, I have to be honest in saying that this is one of my favorites. Writing is a task that I see students struggling with constantly. Whether its their inability to get words down on paper or their struggle to find the imagination that helps them write, I've yet to discover. However, this book will (hopefully) get children excited about writing, by allowing them to see all that writing can be. It's truly wonderful... and what I really like about it is that each page can be used alone in the classroom if you're trying to emphasize one aspect of writing with students, or it can be used as a read-aloud at the beginning the year when introducing students to the class writing program! Definitely a must have for teachers and home-school parents!
Lesson Plans/Reading Activities:
Brown, Marc.
Arthur Writes a Story.
1999.
Little, Brown Books for Young Readers.
Guided Reading Level: K

Source: Copy borrowed from local library
Summary from Barnes & Noble:
When Mr. Ratburn asks the class to write a story, Arthur immediately produces a composition entitled "How I Got My Puppy Pal." But as one person after another gives him advice about what constitutes a good story, he keeps making changes until he ends up with an outlandish song and dance number about elephants on the Planet Shmellafint!
I've always loved the Arthur stories to use in a classroom. I guess it's because there's such a broad range of topics that are covered, that almost any child will be able to connect at many points. I love Arthur so much, that I've actually bought an "Arthur" stuffed animal, in hopes of one day being able to use him in a classroom as a take-home journaling activity in which one student would take Arthur home each weekend and journal their weekend together. It turns writing into a fun activity. Now that I've discovered this book, it would most definitely make for the perfect introduction to the activity of take-home journaling! I would think this book would be a must-read for the National Day on Writing if you have access to it!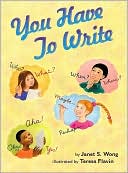 Wong, Janet S.
You Have To Write.
Simon & Schuster Adult Publishing Group.
2002.
Source: Copy borrowed from local library
Summary from Barnes & Noble:
You have to write! It's a class assignment. But you have nothing to write about. All the other kids seem to have something to tell because they start in right away. What can you do? Stop and think. No one else can tell your
stories — about your family, your dog or cat. No one else can tell how it was when your library book got soaked in the rain. But what if you don't like what you write? There are all sorts of ways to change it, to make it better. Keep on playing with your words, putting them together in different ways. You want whatever you write to be good. It will get better and better as you work on it. This is an encouraging book, sympathetically illustrated by Teresa Flavin's charming pictures, for all young readers who worry when they're told to write something.
Many children struggle with "what" to write when given the opportunity to have a "free write." For me, that was always my most enjoyable writing assignment, as I loved being creative and watching things unfold the way
I wanted them to
! However, this isn't the case for many. If you have children or students who are struggling writers, this book would certainly be good to have on hand, as it offers tons of information and ideas to jumpstart the writing process. This is definitely a book I will consider adding to my personal library for future use in a classroom!
Lesson Plans/Reading Activities:
Well, it's the National Day on Writing, so I've found (it actually is done every year at this time) this creative activity that will hopefully inspire children! Bruce Coville hails from my neck of the woods, and each year, he writes the start of a Halloween story which is published in my local newspaper encouraging children to write the middle and ending. There are prizes awarded and I've seen some really creative stories come away from this activity. The link for the Halloween story starter can be found
here
. Hopefully your child(ren) will enjoy this activity!!!
If you're interested in finding out more information about any of the books reviewed or if you'd like to purchase the books, click the cover image for a link to Amazon.com.