This post was supposed to go up yesterday morning, but due to sickness, I couldn't get it typed up for you... so here it is today, still with plenty of time for "doing."
Columbus Day is Monday! And that means no school... but I guess since it's a National Holiday, we really should be sure kids understand the reason they have no school. Take some time out your day and share a book and activity about Christopher Columbus!
-The Teacher's Calendar, 2008-2009
Adler, David.
A Picture Book of Christopher Columbus.

1991.

Holiday House.

Guided Reading Level: M
Summary from Barnes & Noble:
A brief account of the life and accomplishments of Christopher Columbus.
I don't typically tend to be a fan of the "A Picture Book" series put out by David Adler. In the past, I've found the books, for lack of better term, boring. However, I must say that this book wasn't bad! I do think it does a great job of depicting the life of Christopher Columbus and his journey to the "new world." I definitely think it's worthy of use in educating children about this explorer!

Markle, Sandra.
Animals Christopher Columbus Saw.
2008.
Chronicle Books.
Summary from Barnes & Noble:
In this new series by award-winning author Sandra Markle, famous explorers take a back seat to the animals they encountered along the way. While nothing about Christopher Columbus' journey was expected, he couldn't have imagined feasting on roasted lizard! Through nimble writing and beautiful paintings, this series casts the past in a whole new light!
This is a really creative book... and apparently it's part of a new series that I wasn't familiar with! The book is kind of sneaky because while teaching children about Columbus' journey to the "new world," they're also learning about animals (a topic I've discovered children have a love of).
By the time the ships left the

Canary Islands, they were

probably already being attacked

by shipworms. Shipworms, also

called teredos, are really a kind

of clam that drills into wood

and eats the wooden bits their

drilling breaks loose. Over time,

shipworms can put enough holes

in a ship to sink it.
I think kids will be thrilled to learn all of this trivia of sorts, while also learning about a historical period in time! This is definitely a book I will consider adding to my library when I have a classroom of my own!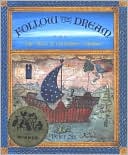 Sis, Peter.
Follow the Dream: The Story of Christopher Columbus.
1991.
Alfred A. Knopf.
Summary from Barnes & Noble:
Christopher Columbus overcomes a number of obstacles to fulfill his dream of sailing west to find a new route to the Orient.
This is another wonderful picture book that accurately describes Christopher Columbus' time as an explorer. It was very resourceful and would likely be a welcome addition to any classroom library of resource books for different holidays (if you're anything like me, your collection is probably split: Halloween, Christmas, Easter, New Year's, Christopher Columbus, Science, Social Studies, etc)!
The Christopher Columbus Craft Activity, which could be purchased from Oriental Trading by the dozens, can be downloaded
here
and created just as easily from craft materials that you likely have right at home.
If you're interested in finding out more information about any of the books reviewed or if you'd like to purchase the books, click the cover image for a link to Amazon.com.