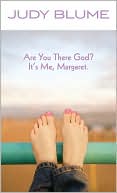 Blume, Judy.
Are You There God? It's Me, Margaret.
1991 (1971).
Random House Children's Books.
Guided Reading Level: T

Summary from Barnes & Noble:
No one ever told Margaret Simon that eleven-going-on- twelve would be such a hard age. When her family moves to New Jersey, she has to adjust to life in the suburbs, a different school, and a whole new group of friends. Margaret knows she needs someone to talk to about growing up-and it's not long before she's found a solution. Are you there God? It's me, Margaret. I can't wait until two o'clock God. That's when our dance starts. Do you think I'll get Philip Leroy for a partner? It's not so much that I like him as a person God, but as a boy he's very handsome. And I'd love to dance with him... just once or twice. Thank you God.
Reason(s) for Banning:
Portrayal of religion
Explicit descriptions of breasts and periods
My Thoughts:
This is a hard one for me... as a preteen I read this book myself at least once... probably two or three times. I read this book because

I

could relate to Margaret and what she was going through. If I can relate to Margaret, chances are there are a great deal of girls out there that can also relate. That being said, I do feel this book should be available to girls today. I respect that some parents won't agree that this book is for their child. As long as they're actively involved in their daughter's life, they will 90% of the time be aware of what she is reading. Perhaps the answer to not banning this book would be to sit and have a discussion with your daughter about the book, so she gets a real account of "life," so-to-speak, and not just this fictionalized account that seems so real.

Judy Bloom is a best-selling author. There is no way she put this book on the market hoping to cause a stir and get a rise out of parents. She put it out there knowing that it will be related to! Let's keep it out there and give Bloom a big round of applause for so accurately portraying the life of eleven- and twelve-year old girls!

I've just given you my thoughts. I don't feel this book should be banned - from school libraries (maybe), but definitely not public libraries. It should be accessible to mature audiences, for children who are old enough to appreciate the book for what it is - perhaps the answer would be putting an 11+ sticker on it and making sure it's being checked out in the hands of a girl who is ready for the topics discussed!
Your Job - Share your thoughts on the following topics on this post!
Should the book be on the banned book list?

Is it okay to be found on a library or book store shelf?

How would you share this book with your child/children?
If you are not familiar with the book, based on my post and the discussion of others, would you consider allowing your child to read/be read this book? Why? Why not?
If you're interested in finding out more information about any of the books reviewed or if you'd like to purchase the books, click the cover image for a link to Amazon.com.