Today's post was supposed to feature books in recognition of National Roller Skating Month. However, I wasn't able to get my hands on any of the books that I was hoping to... so, it's going to be Wacky Wednesday instead - a mixed bag, all appropriate for the season. Hopefully you can enjoy them as much as you would have had they been related to roller skating!
-The Teacher's Calendar, 2008-2009

Falwell, Cathryn.
Mystery Vine.
August 25, 2009.
HarperCollins.
Source: Review Copy Provided from Publisher
Summary from Barnes & Noble:
As the seasons go by, the mystery vine grows and grows and grows. Now, finally, it is autumn, and the mystery vine is no longer a mystery. Hello, pumpkins! This is the season for jack-o'-lanterns, pumpkin pie, pumpkin bread, and pumpkin seeds—ready for toasting and munching, and for saving and planting come spring.
This cute rhyming book is more than appropriate for this time of the year! The two children watching the mystery vine will easily encourage other young readers to guess what the vine is... it'll be even more fun to use as a read-aloud or in the classroom if you don't show children the cover (they might spot the tiny pumpkin that dots the "i"). I'm definitely glad to add this to my bookshelf for fall books (believe it or not, I don't have many fall books, but rather tons of Halloween ones).
Lesson Plans/Reading Activities/Additional Suggested Reading Materials:
Brallier, Jess.
Tess's Tree.
August 2009.
HarperCollins.
Source: Review Copy Provided by Publisher.
Summary from Barnes & Noble:

Tess loved her tree. She liked to swing on it and sit in its shade and catch its leaves in the fall. When Tess's tree has to come down, Tess is very sad . . . until she finds a way to gather friends and family and celebrate her tree's remarkable life. This is a book for sharing with people you love, among good friends, or on a quiet day under a favorite tree.
I was so excited the day this book arrived... I had been waiting for it and earlier in the day (on the same day it arrived), I had been substitute teaching in a computer lab for K-6 students. The kids were having free computer time, but were restricted to links provided on the school district website. Didn't one of the second grade girls find this book available to read online (you can find it
here
)? I was thrilled to see that some of the books are available for kids free of charge! While I still prefer to read a book from an actual book, if it takes books online to get kids to read, I guess I'll learn to deal with that!
This is an incredible book... one that I would recommend for children going through a loss. The book shows that it's okay to mourn, but that it's also good to celebrate the life that was (and will always be remembered)! However, this book isn't limited to just sharing with children experiencing a loss - it makes for a great read-aloud for families, as it's tender and moving... definitely love this one!
Learning Activities/Related Resources: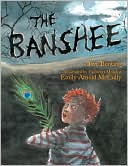 Bunting, Eve.
The Banshee.
September 2009.
Houghton Mifflin Harcourt.
Source: Review Copy Provided by Publisher
Summary from Barnes & Noble:
"SCREE . . . SCREE . . ." Terry is half asleep when he hears the wailing, rising and falling like the waves of the sea. He wishes it were a dream, but he knows it isn't. It isn't an owl screeching, either. Or the Flannerys' old cat. Could it be the Banshee—the ghostly figure of Irish legend who wails outside a house when death is near? Why would she come here? In spite of his fears, Terry goes out to confront her. Is it really the Banshee, or . . . something else?
While this isn't in any way a Halloween story, the eeriness about it definitely makes it a good candidate for being a "Halloween" read. The dark illustrations had me picturing a Halloween night, dark and creepy. It was a very interesting read and even I learned something I wasn't familiar with - what a Banshee is! Do you know about Banshees? If not, pick up a copy of the book and check it out with your children!
Lesson Plans/Reading Activities