Earlier this month, President Obama was awarded the Nobel Peace Prize for 2009! Earlier this year (in February), Sleeping Bear Press released a wonderful book that introduces children to the man behind the prize!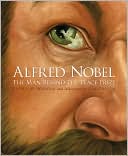 Wargin, Kathy-Jo.
Alfred Nobel: The Man Behind the Peace Prize.
February 2009.
Sleeping Bear Press.
Source: Review copy provided courtesy of publisher
Summary from Inside Jacket Cover:
Almost everyone has heard of the Nobel Prize, a collection of prizes awarded for accomplishments in science, medicine, literature and peace. But very few people know about the man who established the award and for whom it is named, Alfred Nobel.

Alfred Nobel was born in Sweden in 1833. A quick and curious mind, combined with a love of science and chemistry, drove him to invent numerous technological devices throughout his long life. But he is perhaps most well known for his invention of dynamite.

Intending it to help safely advance road and bridge construction, Nobel saw his most famous invention used in the development of military weaponry. After reading a newspaper headline mistakenly announcing his death, Nobel was inspired to leave a legacy of another sort.



The Man Behind the Peace Prize

tells the story of the enduring legacy of Alfred Nobel.
How much do you really know about Alfred Nobel? I didn't even know his first name was Alfred before reading this book!
Did you know there is a "series" of Nobel Prizes? I honestly can say prior to reading this book, I was only familiar with the Nobel Peace Prize (President Obama has been awarded this prize in 2009 "for his extraordinary efforts to strengthen international diplomacy and cooperation between peoples" -
The Nobel Peace Prize 2009
).
As you can see, there's tons to be learned from this book! I think this book would be a welcome addition to any home or classroom, as I believe children will be very interested in learning more about the Nobel Peace Prize that was awarded to President Obama earlier this month. However, in order to fully appreciate all that the award means, children should also have an understanding of how the Nobel Prizes came to be!
The publisher, Sleeping Bear Press is has been very generous in offering 3 copies of this to be given away to my blog readers!!! To enter this giveaway, leave a comment on this post. You must be a U.S. resident in order to win. Please be sure to include an e-mail where you can be contacted, should you be a winner!.
You have until Saturday, October 24 at 11:59pm to enter
!
If you're interested in finding out more information about any of the books reviewed or if you'd like to purchase the books, click the cover image for a link to Amazon.com.