A great fall read-aloud that teaches a
very
valuable lesson!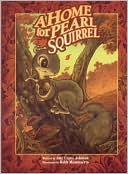 Johnson, Amy Crane.
A Home for Pearl Squirrel.
June/September 2009.
Raven Tree Press.
Summary from Inside Jacket Cover:
Pearl Squirrel is perky and curious. She's building her own leaf home for the very first time, and she wants everyone to like it! As her friends come to visit, Pearl learns about the different types of homes and habitats where woodland creatures live and play. Solomon Raven explains about diversity and why someone else's notion of "best" is not always best for all of us.
Of all the animal books I've read and reviewed for today, this definitely ranks up there as one of my favorites! There is an important lesson to be taught, and that's one of my qualifying factors for good children's literature. I also enjoyed this book because it is very educational in teaching about different homes and habitats. Definitely worthy of sharing!
Activity to Use in Collaboration with this book:

Webquest

- Children love using the computer and it's a skill that's definitely worthy of their time (in moderation, anyways)! I believe that children's recreational computer time should be carefully guided. Allow them to explore the computer, but watch what they are doing. A good way to do this is to provide children with a webquest, where they are seeking out specific information. Here, you will find a webquest about five habitats and discovering all of the different animals that live there. Hopefully your child(ren) will enjoy the task while still learning a great deal of worthy information!
If you're interested in finding out more information about any of the books reviewed or if you'd like to purchase the books, click the cover image for a link to Amazon.com.