Emberley, Ed and Rebecca.

Chicken Little.
2009.
Roaring Brook Press.
Summary from Barnes & Noble:

BONK! An award-winning father-daughter team make the sky fall an entirely new way. You may already know the tale of a not-quite-so-bright little chicken whose encounter with an acorn and gravity convinces him the sky is falling, but youÕve never seen the story told this way. A brilliant collaboration brings us a bold and colorful retelling of the classic tale, as crazy-eyed Chicken and all his panicked friends run away from the sky and right into an eye-catching gatefold surprise.
This book was great! I remember the story of Chicken Little but it's been some time since I've actually read it! The illustrations are bright and eye-catching, definitely appealing to young eyes. This book would be perfect to use for a retelling activity, in that it is fairly repetitive but not so much that it will hinder the process of retelling. It's also a great book for beginning readers, as the text is somewhat predictable! It might also be fun to use this book along with other versions of Chicken Little to have children compare and contrast different versions of the same story!
Lesson Plans/Learning Activities:
Other Versions of
Chicken Little
: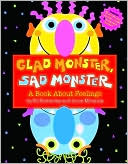 Emberley, Ed.
Glad Monster, Sad Monster: A Book About Feelings.

1997.

Little, Brown Books for Young Readers.
Guided Reading Level: H
Summary from Barnes & Noble:
Glad, sad, silly, mad - monsters have all kinds of different feelings! In this innovative die-cut book, featuring a snazzy foil cover, you'll try on funny masks as you walk through the wide range of moods all little monsters (and kids!) experience. Here's a fun, interactive way to explore the many different ways we feel!
This is a great book to introduce young children to the idea of talking about their feelings. The black pages contrast perfectly with the brightly colored monsters found on each page! I would definitely use this book with children in an early childhood setting (up to 1st grade) - being able to express your feelings is a huge part of being involved in the world socially and this book will help students begin to do just that!
Lesson Plan:
Create a "My Feelings" book with children. Encourage child(ren) to look through the mask on each page. Take their picture when they are wearing the mask. Each mask page also presents a question to child(ren). Ask them to write a sentence or two to describe something that makes them feel glad, sad, etc., depending on the pages of the book. Staple or bind the book together and children will have a book of their own!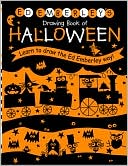 Emberley, Ed.
Ed Emberley's Drawing Book of Halloween.
2006.
Little, Brown Books for Young Readers.
Summary from Amazon:
Ed Emberley shows would-be artists how to draw a variety of creepy and scary Halloween creatures such as witches, bats, monsters - and more. Step-by-step instructions for drawing Halloween cartoon figures and objects.
This book is a perfect activity book for children who want to draw specific Halloween creatures but are unsure of their drawing abilities. Emberley walks readers step-by-step through the process, allowing them to create the objects they wish while also learning how basic shapes can enable "artists" to create almost anything!
If you're interested in finding out more information about any of the books reviewed or if you'd like to purchase the books, click the cover image for a link to Amazon.com.