Honoring Mice, Moles, Birds [and Wong Herbert Yee] on World Animal Day!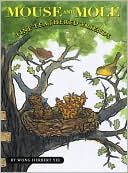 Yee, Wong Herbert.
Mouse and Mole: Fine Feathered Friends.
September 2009.
Houghton Mifflin Harcourt.
Guided Reading Level: L
Summary from Barnes & Noble:
It is a blustery spring day, and Mouse and Mole are very excited. They are going to go bird watching! They are planning to make bird books! Mouse and Mole pack paper and crayons and hurry outside. It turns out, birds are not so easy to watch. Splashing in puddles scare them away. Stepping on crunchy leaves does too. Mole rubs his snout. Mouse twirls her tail. Together, they come up with a plan to get closer to the birds. A plan that includes glue and feathers . . . Join Mouse and Mole on another high-flying adventure in which teamwork, brainstorming, and good ideas always make for a fun day out!
This is a really cute adventure story for children! They'll eager anticipate the next exciting event that occurs in this story, making it perfect for children who are getting into the practice of predicting as a comprehension strategy. The book would also be a perfect gift for children who enjoy watching and/or drawing birds.
Activity to Use in Collaboration with this book:
Invite children to go on a bird watching adventure. Take a nature walk (fall is a perfect time for hitting up the hiking trails nearby your house). As you're walking, encourage children to carry a nature notebook, to make notes of the different characteristics of the birds they see. If children are old/mature enough, allow them the use of your camera to snap pictures of the birds as well. If they can't handle the camera, you do the picture taking for them. Once you're back at home, encourage children to draw a picture for each bird and then write a caption for the picture, similar to what Mouse and Mole did when they created their "Fine Feathered Friends" book.
Yee, Wong Herbert.
Eek! There's a Mouse in the House.
October 2009 (1995).
Houghton Mifflin Harcourt.
Guided Reading Level: J
Summary from Barnes & Noble:
This humorous rhyming tale, now being offered in board book format, depicts the chaos that ensues when a mouse is discovered in the house and a variety of animals are invited inside to help chase it out.
This book was originally released back in 1995, but this month, the Board Book edition is being released! This board book is perfect for the youngest of children. The illustrations will have them giggling for sure! Between the rhyming text and the noticeable pattern children of all ages will be anticipating what's to come. The book could easily be used to practice retelling skills or to introduce or review rhyming words, as the book is full of them.
Activities to Use in Collaboration with this book:

Retelling Felt Board: Create a felt board set to use as a retelling activity. You will need the following characters: mouse, cat, dog, fish, hog, cake, cow, mop, sheep, yarn, hen, eggs, horse, elephant. For the actual board, cut a big piece of felt in the shape of the house (large enough to hold all of the characters). Children will then place the pieces on the board and retell the story in the order in which they remember the events happening.

Rhyming Words: Read through the story one time. Then reread each page, one at a time. Use the first page as an example. Mouse and House are the rhyming words. Mouse, House, they both have... /ouse/. Cat, rat, they both have... /at/. Then tell child(ren) that for the next page, you're going to ask them to do the same thing

and

come up with another word that rhymes with the first two. For example, on page 2, lamp, scamp, they both have... /amp/. Ramp! That rhymes with lamp and scamp!

If you're interested in finding out more information about any of the books reviewed or if you'd like to purchase the books, click the cover image for a link to Amazon.com.