September 22 through December 21 marks the season known as "Autumn." In the Northern Hemisphere, fall began yesterday with the autumnal equinox, which occurred at 11:44 am, EDT. Not that in the Southern Hemisphere yesterday marked the arrival of spring. Everywhere on Earth (except near the poles) the sun rises due east and sets due west and daylight length is nearly identical - about 12 hours, 8 minutes.
-The Teacher's Calendar, 2008-2009
I couldn't post fall book yesterday because I just had to make that Esphyr Slobodkina post, but seeing as how these books are pertinent through nearly Christmas, I'd say today's post is just as good! Enjoy!
Hawk, Fran.
Count Down to Fall.
2009.
Sylvan Dell Publishing.
Summary from Barnes & Noble:
Count backwards from ten to one during one of the most colorful times of year: fall. Learn about the bright, colorful leaves and the trees from which they fall: aspen, birch, maple, oak, chestnut, linden, pine, beech, dogwood, and sweet gum. Watch the animals frolicking in the crisp, autumn air as they get ready for the approaching cold winter.
This book teaches many concepts to children! First and foremost, it allows children the opportunity to practice "counting down" or backwards. Secondly, it teaches children about different leaves that they will see as the leaves turn colors during the fall months. The book also allows children the chance to see what leaves are used as food by some animals! A great resource for the fall months! And, the teacher activities provided... well, I just can't say enough!
Lesson Plans/Reading Activities: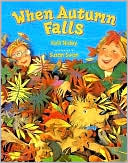 Nidey, Kelli.
When Autumn Falls.
2004.
Albert Whitman & Company.
Summary from Barnes & Noble:
As September fades, a new season begins. Leaves and temperatures tumble. And, as autumn falls, new colors and smells gradually replace the heat and intensity that was summer. Children love caramel-apple making and bobbing for apples. Jack-o'-lanterns appear and piles of leaves stacked high beckon. Autumn means the end of summer, but the beginning of something new and crisp and familiar.
Many older children are familiar with the changes that take place throughout the fall months... however, the younger ones may be curious... and this book is the perfect way to approach that with the younger ones! It's also a great book to use to introduce to children when studying different seasons. Children will really be able to connect with this book!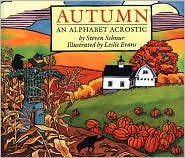 Schnur, Steven.
Autumn: An Alphabet Acrostic.
1997.
Clarion Books.
Summary from Barnes & Noble:
One brief acrostic poem for each letter of the alphabet from acorn to zero follows the fall season from end of summer to chilly conclusion.
This is just the sort of book that is perfect for teachers looking for a bulletin board display for the fall months!
Brainstorm a list of "autumn" or "fall" words.
Read the book with your class, discussing an acrostic poem prior to reading - what it is, what makes it an acrostic, etc.
Assign each student one of the autumn/fall words that was earlier brainstormed.

Using that word, ask each student to create an acrostic poem.
Mount the published poems on autumn colored construction paper and place on the fall bulletin board!
A great way to display your students' hard work while also knocking off a great bulletin board display!
If you're interested in finding out more information about any of the books reviewed or if you'd like to purchase the books, click the cover image for a link to Amazon.com.