On September 25, 1690, the first (and only) edition of Publick Occurrences Both Foreign and Domestick was published by Benjamin Harris, at the London-Coffee-House, Boston, MA. Authorities considered this the first newspaper published in the US offensive and ordered immediate suppression.
-The Teacher's Calendar, 2008-2009
I thought today, in remembrance of this first newspaper publishing, we'd take a look at a few books related to the topic!
Gibbons, Gail.
Deadline! From News to Newspaper.
1987.
HarperCollins Publishers.
Guided Reading Level: N
Summary from Barnes & Noble:
Examines the diverse behind-the-scenes activities of a typical working day at a small daily newspaper, from morning preparations for meeting the deadline to the moment the afternoon papers leave the presses.
This book is a wonderful source of information about the printing business. Children will quickly learn all there is to know about how a newspaper comes to fruition. Along the journey, they will discover the importance of time management as well as all the different rolls that involve people working together to get a job done. Cooperation is a big theme in this book!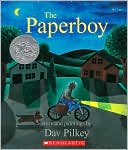 Pilkey, Dav.
The Paperboy.
1996.
Orchard Books.
Guided Reading Level: J
Summary from Barnes & Noble:

A paperboy and his dog enjoy the quiet of the early morning as they go about their rounds.
I was a "paperboy" once... and let me just say that I know exactly how the paperboy feels as he must drag himself from the comforts of a warm bed to get out and deliver those early morning papers. I think what children will enjoy more than the anything here are the paintings enclosed within, for they may not be able to make a connection to the text. However, it is a wonderful book. I could see it being introduced to students during a career week when different career choices are examined!
If you're interested in finding out more information about any of the books reviewed or if you'd like to purchase the books, click the cover image for a link to Amazon.com.