As a teacher, I am always looking for reference/resource books to share with children surrounding a particular curriculum topic. When looking for non-fiction reading material, Aliki has always been one of my top-choice picks. I think with these reviews, you might just understand why!


Aliki.
My Five Senses.
1989 (1962).
HarperCollins Publishers.
Summary from Barnes & Noble:
Children love to explore. Each day brings new sights and sounds, new things to smell and taste and touch . Aliki's simple text and cheerful art in this enlarged edition introduce very young children to the wonder of the five senses and all they reveal about the world around us.
This book is ideal to use when introducing young children to the concept of their five senses and the way they are used. By giving concrete examples students will quickly pick up on their senses and will soon be telling you all the different ways in which they are using their own senses!
Lesson Plans/Reading Activities/Suggested Reading
Aliki.
My Visit to the Zoo.
1997.
HarperCollins Publishers.
Guided Reading Level: N
Summary from Barnes & Noble:
Imagine traveling from a lush tropical rain forest, to a deep and
mysterious canyon, to the wide-open African plains—all in one day! In this tour of a modern-day zoo, visitors get to see how animals really live. They'll learn everything from what elephants like to roll around in after their baths to what's being done to preserve wildlife.
This is a very resourceful book that would probably best be used with children before a trip to the zoo! Perhaps you could provide them with a checklist (from animals in the book) to see just how many they can find. See if the children can discover facts about these animals at the zoo that they didn't find in the book! There are all kinds of activities that could be done in collaboration with this book - definitely worth checking out!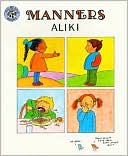 Aliki.
Manners.
1990.
Greenwillow Books.
Guided Reading Level: L
Summary from Barnes & Noble:
Discusses manners and gives examples of good manners and bad manners.
Broken down into seven lessons about manner, hopefully this book will help you teach your child everything he/she needs to know to be a polite child! What I really like about this book is that it doesn't need to be read in its entirety in one reading. Breaking the different lessons apart and spending several days practicing each one will ensure that little ones understand what it takes to be polite! Definitely a great book (even as a resource) to help parents when teaching children manners.
Lesson Plans/Reading Activities/Suggested Reading: