So, it's been brought to my attention that today is Talk Like a Pirate Day. I just happened to have two pirate books on my shelf awaiting review, so I figured, even though its too late to celebrate today, your kids won't mind participating tomorrow, so I've gone ahead and gotten a post in order for everyone! For some more information, check out this
website
.
-The Teacher's Calendar, 2008-2009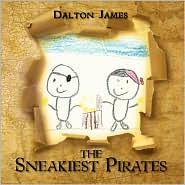 James, Dalton.
The Sneakiest Pirates.
2008.
Outskirts Press.
Summary from Barnes & Noble:
A tale of a young boy, Pirate Pete, and his dad, Scurvy James, setting sail on a mischievous adventure on the high seas to find the King's loot, stolen by Peg Leg Chuck. This small boy and his Dad are clearly having the time of their lives. This book is cartoonish, funny and a must-read for little readers.
Oh, Dalton! You have done just what we teachers wish our students will do - become so involved and interested in your writing that you've made a book, an actual book from your story (presumably a writing assignment from school)! If this isn't enough to inspire young children to write - the knowledge that they can actually write and publish a book - I don't think anything will! Definitely a must have for teachers of elementary children trying to inspire the act of writing in their classrooms!
Sobel, June.
Shiver Me Letters: A Pirate ABC.
2006.
Houghton Mifflin Harcourt.
Summary from Barnes & Noble:
Plunder the alphabet with a hilarious cast of pirates!
This book is perfect - absolutely perfect for children who are just beginning to learn and recognize the alphabet and letters. Within each illustration, letters are hidden, prompting children to find them...
A mysterious map with an M soon appeared, while one nimble N popped right out of a beard!
This makes a great interactive activity to get children involved in books. After reading, perhaps you could plan a letter scavenger hunt throughout the house. Either hide construction paper letters or prompt children to locate letters on objects throughout the house. It's a great activity to promote letter recognition, not to mention cost-friendly!
If you're interested in finding out more information about any of the books reviewed or if you'd like to purchase the books, click the cover image for a link to Amazon.com.