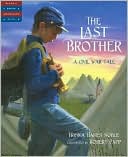 Noble, Trinka Hakes.
The Last Brother.
2006.
Sleeping Bear Press.
Summary from Sleeping Bear Press:
In July 1863 the bloodiest battle of the Civil War was fought outside the sleepy Pennsylvania town of Gettysburg. In The Last Brother the story of one small boy is told amidst the dramatic events of those early days of July. Though he is only 11 years old, Gabe is a bugler in the Union Army. He takes his responsibility very seriously; after all, there are over 60 different battle calls for buglers to learn. But what is even more important to Gabe is watching over his older brother Davy who, as a foot soldier, is right in the thick of the fighting. Two of Gabe's older brothers have already perished, and he is not willing to lose the only one he has left. During those long days, Gabe meets another young bugler -- one who fights for the other side. Suddenly, what was so definite and clear has become complicated by friendship and compassion. Does one have to choose between service to country, to kin or to a friend? As the cannons fire and the battle rages on, Gabe must do his duty while searching for a way to honor all that he holds dear.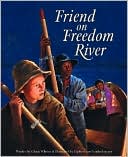 Whelan, Gloria.
Friend on Freedom River.
2004.
Sleeping Bear Press.
Summary from Barnes & Noble:
This is indeed, as the jacket suggests, a "tale of spirit, compassion and the courage to do what is right when it would be safer to do nothing." It is a story of the Underground Railroad through Michigan and Canada, a less well-known branch of the road to freedom even though the author tells us that 40,000 slaves traveled this route. Young Louis has been left in charge of the farm while his father goes to a logging camp for the winter. His father told Louis "If you don't know what to do, do what you think I would have done." To Louis, that included rowing a slave mother and her two children on a frigid and dangerous trip across the Detroit River. The illustrations are riveting—young Lucy's eyes filled with fear and pleading as they gaze directly at the reader, the glow of the patrol boat lantern that could have ended the run to freedom for everyone. Gijsbert van Frankenhuyzen paints in dark oils that leave the texture of the canvas showing through and help convey the many layers of meaning: the choices Louis must make, the tentative companionship between Louis and the young black boy who trusts no whites, and the decisions grown ups make to seek freedom and help freedom seekers. This is a fresh and elegant perspective on the Underground Railroad that can be appreciated on many levels by a wide age range.
Mackall, Dandi Daley.
Rudy Rides the Rails: A Depression Era Story.
2007.
Sleeping Bear Press.
Summary from Barnes & Noble:
Set in 1932, this picture book tells of a teenager who leaves his home in Akron, OH, and takes to the rails to find work and hopefully a better life in California. Despite his father's advice, "look out for you and yours, and nobody else," Rudy learns that people who are down and out have to lean on others sometimes. As he travels west, stopping to take odd jobs, he meets other travelers who help him endure life on the road. They show him the signs left behind by other hoboes, warning of danger and indicating those homes where food would be offered. With their assistance, Rudy, like many other displaced persons, survives, eventually returning home to carve the "kindness here" symbol on his own front porch. Realistic, painterly illustrations depict the teen's cross-country journey, showing the many different trains he rides through the changing North American landscape. Beginning with the despair on the faces of the men waiting in line for work, the paintings clearly convey the characters' emotions. The symbols appear throughout and are defined on an appended page, along with a "Hobo Glossary." The writing is clear and vivid, and an author's note provides context for the story. A wonderful addition to the study of the Great Depression.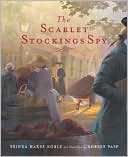 Noble, Trinka Hakes.
The Scarlet Stockings Spy.
2004.
Sleeping Bear Press.
Summary from Barnes & Noble:
In 1777 Philadelphia, young Maddy Rose spies for General Washington's army by using an unusual code to communicate with her soldier brother. Philadelphia 1777 is no place for the faint of heart. The rumble of war with the British grows louder each day, and spies for and against the Patriots are everywhere. No one is above suspicion. Still, everyday life must go on and young Maddy Rose must help her mother, especially since her father's death at the Battle of Princeton and now with her beloved brother Jonathan off with Washington's army. But when childhood games become life-and-death actions, Maddy Rose is drawn ever deeper into events that will explode beyond her imagining. As young America stands on the very brink of its fight for freedom, it becomes clear that even the smallest of citizens can play the largest of parts, and that the role of a patriot has nothing to do with age and everything to do with heart. In the Scarlet Stockings Spy Trinka Hakes Noble melds a suspenseful tale of devotion, sacrifice, and patriotism with the stark realities of our country's birth.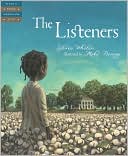 Whelan, Gloria.
The Listeners.
September 2009.
Sleeping Bear Press.
Summary from Sleeping Bear Press:
Ella May lives on a plantation but she doesn't live in the great house. She is a slave. It's dark in the morning when Ella May heads to the fields to pick cotton. And it's sunset when she comes home. But her day isn't done, not yet. Ella May still has important work to do. She's got to listen. Each night Ella May and her friends secretly listen outside the windows of their master's house. The children listen in the hopes of gleaning information about their fates and those of their loved ones. Who will be sold? Who will stay? The lives of slaves depended on the inclinations of their owners. They had no control over their daily lives or futures. But they could dream. And when the promise of freedom appears on the horizon, the children are the first to hear it.
Other Books in the Tales of Young Americans series:
Okay, some of my reviews are just sub-standard and standard. Other times, I have raved about books (in particular, those from Sylvan Dell publishers). I have now found my Social Studies/History equivalent to Sylvan Dell's science themed books!!!! These five books are absolutely incredible (and I'm sure the other two are as well). What I enjoyed the most about them was that they are written through the eyes of a child... do you know what that means? It means these books are really enabling today's children to connect with the characters from such different time periods than we're living now... and that's HUGE! Especially when we're trying to convey the lifestyles different than those that today's children are used to! The books also focus on areas of American history that is hugely focused on in today's curricula, making them more than ideal for use in the classroom - the teaching guides also make this possible with little additional effort on the part of teachers! Definitely a bonus....
So now, here's your chance to win 1 of 5 copies of the latest book,
The Listeners
for use either in your classroom or with your own children at home! Can it get any better than this? You have until
Saturday, September 26 at 11:59 pm EST
to enter. You simply have to follow the directions below!
Leave a comment on this post (BE SURE TO INCLUDE YOUR EMAIL). In your comment, give me one topic that you would like to see addressed in a book as part of the Tales of Young Americans series. I will be passing these along to the publisher to show her just how much I loved the series and would like to see more books published! The topics already touched on are:
slavery
the Underground Railroad
the Great Depression
the Revolutionary War
the Civil War
the April 1, 1946 tsunami in Hawaii
immigration and the American Dream
the 1963 March on Washington
the Oregon Trail
World War II refugees
building of the Mackinac Bridge in the 50's
If you're interested in finding out more information about any of the books reviewed or if you'd like to purchase the books, click the cover image for a link to Amazon.com.