On September 9, 1845,
The Dublin Evening Post
reported the partial failure of the potato crop in Ireland. A blight caused by a fungus destroyed 30 percent of the crop; in 1846, 1848 and 1849 nearly the entire potato crop failed. Out of a population of 8 million, about 1 million people died in the resulting famine and 1.5 million emigrated to the US, Canada and Australia. The 1850 US census showed that more than 40 percent of the country's foreign-born population was Irish.
-The Teacher's Calendar, 2008-2009
I've never been a huge history buff, but certain aspects of history definitely draw me in... immigration has always been one of those topics. The years in which people suffered at the hands of the Irish Potato Famine were responsible for a great deal of immigration into the United States and therefore, this was a very interesting topic for me to explore! After reading this post, check out
this
previous one, also featuring a wonderful book about the Irish Potato Famine.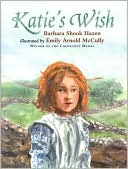 Shook Hazen, Barbara.
Katie's Wish.
2002.
Dial Books for Young Readers.
Summary from Barnes & Noble:
Katie can't stand to look at another plain old potato, so she wishes them away. And soon after, a rot begins to spread across the fields of Ireland. As the potato crops wither and more and more people get sick, Katie believes she's at fault. Even when Grand Da agrees that she and her cousin should join her father in Boston, Katie still feels guilty about having wished the potatoes away. Inspired by her own heritage, Barbara Shook Hazen has spun this poignant tale of the Irish potato famine. Caldecott Medal winner Emily Arnold McCully brings it to life in graceful, tender watercolors.
This book is would make a wonderful introduction to teaching children about the Irish Potato Famine. There are just enough details to get children interested - wanting to know more. I think children will really be able to relate to this book because of the story that's told beneath the information of the Irish Potato Famine - Katie's placing blame on herself for something that happened (when it's really not her fault). Definitely worth reading!
Giff, Patricia Reilly.
Nory Ryan's Song.
2002.
Random House Children's Books.
Summary from Barnes & Noble:
Nory Ryan's family has lived on Maidin Bay on the west coast of Ireland for generations, raising a pig and a few chickens, planting potatoes, getting by. Every year Nory's father goes away on a fishing boat and returns with the rent money for the English lord who owns their cottage and fields, the English lord bent upon forcing the Irish from their land so he can tumble the cottages and clear the fields for grazing. Times are never easy on Maidin Bay, but this year, a terrible blight attacks the potatoes. No crop means starvation. Twelve-year-old Nory must summon the courage and ingenuity to find food, to find hope, to find a way to help her family survive.
I've had
Nory Ryan's Song
sitting on my bookshelf for at least 4 years, waiting to be read. I have NO clue why I've waited this long... my advice to you is, don't wait! How a twelve year old child can survive through this, virtually alone, trying to care for her young brother is beyond my knowledge. But, I guess you do what you have to do in order to survive - and that's just what Nory did. Her story is incredible... touching... I do think that the book is appropriate for children between the ages of 10-14. However, I think that in order for children to take away the most from this novel, it should be read and discussed together. It would be a perfect mother/daughter read aloud! Get this book and share it now!
And when you're finished with this one, check out
Maggie's Door
, the follow-up novel that focuses on Nory's sister, Maggie, as she settles into her new life in NYC.
Lesson Plans/Reading Activities:
If you're interested in finding out more information about any of the books reviewed or if you'd like to purchase the books, click the cover image for a link to Amazon.com.