Today is H.A. Rey's Birthday... We are all familiar with him as an author due to his Curious George series... I loved them myself as a child, and know that today, children are still fans of Curious George! Hopefully your children/students will have the opportunity to enjoy these latest books!


Rey, H.A.
Curious Baby/Curious George: Music Play: A Book and CD.
2009.
Houghton Mifflin Harcourt.
Summary from Barnes & Noble:
This board book and CD package introduces its young audience to the joy of music, rhythm, and dance. With one page of guidelines on how to best share the words and music with babies and four spreads of rhyming text celebrating the joy of music and movement, this is a perfect gift for expectant and new parents.
I love this new series of Curious George books! I've tagged the posts regarding the books as "baby gifts" and have already passed a few along to some new family members, in hopes of not only providing some enjoyment for the little additions, but also to set them on the path to becoming lifelong readers! These are definitely worth the money and more than baby-friendly!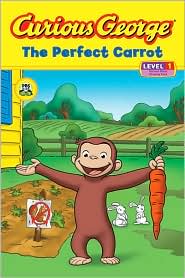 Rey, H.A.
Curious George: The Perfect Carrot.
2009.
Houghton Mifflin Harcourt.
Summary from book cover:
Curious George is growing carrots to feed his neighbor's bunnies. But his prize carro
t is so perfect that George wants to save it... until his perfect carrot becomes the perfect thing to save the day!
These new easy reader Curious George books are perfect for beginning readers! They are a step above picture books, making children feel more like "readers." Add this to the fact that this particular series is based off the hit PBS Kids show, and you've got a winning book for children! This particular book would be perfect to include when children are learning about food and the plant life cycle, as we learn alongside George the necessary ingredients for growing plants. The book comes complete with a recipe for carrot muffins!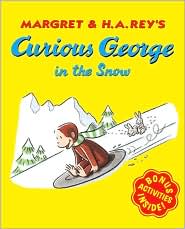 Rey, Margaret & H.A.
Curious George in the Snow.
2009 (1998).
Houghton Mifflin Harcourt.
Summary from Barnes & Noble:
George and the man with the yellow hat enjoy watching the winter sports competition. When they stop to warm up with some cocoa, George's curiosity about the racing equipment leads to some wild rides up and down the slopes. He creates quite a stir at the resort, and may even create a new sport!
Good ol' Curious George - just as we remember him! Always curious beyond his name and sure to cause trouble! This book is perfect to read during those long days of winter! In the end, just like always, things work out for the best for Curious George and the man with the yellow hat! So glad to add this to my Curious George collection!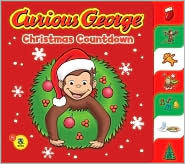 Rey, H.A.
Curious George: Christmas Countdown.
2009.
Houghton Mifflin Harcourt.
Summary from Amazon:
Using the format of two previous successful tabbed board books--TV
Curious George Good Night Book
and classic
Happy Halloween, Curious George
--
Curious George Christmas Countdown
has seven tabbed spreads, each with a fun and simple stand-alone poem accompanied by adorable holday scenes inspired by the TV Christmas special. George counts down to Christmas as he fills his days with picking out a tree, baking cookies, admiring holday decorations, singing Christmas carols, and making presents for his friends.
I love this book for several reasons!
It's a board book! Appropriate for handling by very young hands! Exposing the youngest of children to Curious George will set them on a life-long path toward reading, as they will next be able to enjoy a familiar character in a picture book and then easy reader setting.

It's a countdown book! Children are exposed to counting at an early age... the more practice they get, the more comfortable they will be with math activities later on in life!

As parents, I'm sure you always try to do something special with your children to count down the days until Christmas - rather than spend money on little stuff to fill up an advent calendar, why not purchase this book, and together for each of the six days before Christmas, read a page and partake in the same activity as Curious George. I guarantee, time spent together is much more worthy than any store purchased advent gift!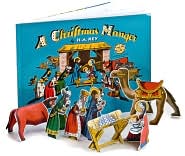 Rey, H.A.
A Christmas Manger.
September 28, 2009.
Houghton Mifflin Harcourt.
Summary from Barnes & Noble:

First published in 1942, this re-discovered H. A. Rey title allows readers to recreate the Christmas miracle using text from Matthew and Luke and vintage punch-out-and-fold paper dolls. No paste or tape required. Pockets are included in the inside front and back covers for easy storage of the dolls. Enjoy them today and for many Christmases to come!
H.A. Rey also has a new book out just in time for this year's Christmas season, that is so perfect for young children! The text is pretty simple, but explanatory enough to keep children's attention while at the same time increasing their understanding of the true meaning of Christmas! The punch out characters allow children to manipulate the nativity scene and actually see the story in motion. Definitely a great gift idea for this holiday season!
If you're interested in finding out more information about any of the books reviewed or if you'd like to purchase the books, click the cover image for a link to Amazon.com.