Happy 55th Birthday to Jon Scieszka! For many years, children have been enjoying his wonderful works, hopefully you'll enjoy them too (although, I, myself, have mixed thoughts)!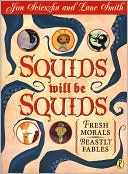 Sc
ieszka, Jon.
Squids Will Be Squids.

1998.

Viking.
Summary from Barnes & Noble:

We're all used to hearing fables -- those moral-filled stories about tortoises and hares, and ants and grasshoppers. But fables about skateboarding frogs? Duckbilled platypuses? BeefsnakSticks? Outrageous, you say? After standing fairy tales on their heads in The Stinky Cheese Man and Other Fairly Stupid Tales and blowing the lid off The True Story of the Three Little Pigs, the enormously popular and highly acclaimed author-and-illustrator team of Jon Scieszka and Lane Smith are back. This time they have created contemporary fables that reflect all the bossiness, sneakiness, boastfulness, and silliness of our everyday lives. And the moral of the story? Move over, Aesop, because the world of fables may never be the same.
So... I really just didn't get most of this book... and I while I think kids would find the book funny, I doubt they'd really understand the tales and morals to be taught... Perhaps if there are lesson plans out there that specifically cater to the book and show you how to use the book as a teaching resource, maybe it's playable... Have any of you used this book with children? Did they get the stories, let alone the morals?
I will share with you my favorite of the fables/morals,
he who...
Skunk, Musk Ox, and Cabbage were sitting
around the front porch at Skunk's house.
Slowly but surely,
the porch filled with
a terrible smell.
"Whoa!" said Skunk. "Is that you, Musk Ox?"
Musk Ox shook his shaggy head.
"No way, Skunk. That's Cabbage."
"Uh uh," said Cabbage.
"That's not me."
Musk Ox and Cabbage looked back
at Skunk, who
suddenly became very interested in tying his shoe.
[Moral: He who melt it, dealt it.]
I'm pretty sure kids will get this one... but would you really consider that a moral? I don't know... mixed thoughts on my part!
Lesson Plans/Reading Activities:

Scieszka, Jon.

The True Story of the 3 Little Pigs.

1989.

Penguin Books.

Guided Reading Level: Q
Summary from Barnes & Noble:
Th
e wolf gives his own outlandish version of what really happened when he tangled with the three little pigs.
I've always enjoyed using this story in collaboration with any other version of The 3 Little Pigs, as this one is told from the Wolf's point-of-view and allows children to easily grasp the idea of comparing and contrasting the two stories. What is different? What was the same? I have tended to use this as an introduction with Venn Diagrams as well... gets children organized in comparing and contrasting different events/things. However, there are numerous other activities that can be done with this book as well, making it an almost must have on your bookshelf!
My Other Favorite Versions of
The Three Little Pigs
to Use as Fractured Fairytales:

Scieszka, Jon.
The Stinky Cheese Man and Other Fairly Stupid Tales.
1992.
Viking.
Guided Reading Level: P
Summary from Barnes & Noble:
Wonderfully quirky, this book breathes new life into staid children's stories. In these irreverent variations on well-known themes, the ugly duckling grows up to be an ugly duck, and the princess who kisses the frog wins only a mouthful of amphibian slime.
I hate to say it, but this wasn't one of my favorites either... I really thought I would enjoy the fairytale and folktale books, but I just didn't appreciate them... Do any of you have any experience using these books with children? How did they enjoy them? Did you use the books in an educational manner? Or just as a read aloud? What did you think of the book?
Lesson Plans/Reading Activities