Library Card Sign-Up Month is an observance taking place between September 1-30. The observance was launched in 1987, to meet the challenge of then Secretary of Education William J. Bennett, who said, "Let's have a national campaign... every child should obtain a library card - and use it." Since then, thousands of public and school libraries join each fall in a national effort to ensure every child does just that.
-The Teacher's Calendar, 2008-2009
Read about Richard Wright! After you see what he was deprived of, head out to your local library and sign-up your child up for his/her own library card - empower them! And if they're fortunate enough to already have their own card, spread the word to families in the area in which each child may not possess his/her own library card. Help empower children with learning during this day and age when there is such freedom available to all!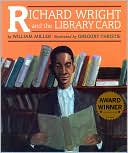 Miller, William.
Richard Wright and the Library Card.
1997.
Lee & Low Books.
Summary from Barnes & Noble:

Based on a scene from Wright's autobiography, Black boy, in which the seventeen-year-old African-American borrows a white man's library card and devours every book as a ticket to freedom.
This book will teach children several important lessons and therefore, belongs in every library (home, public, and classroom)!
The Civil Rights Movement and Laws against African-Americans were truly deeper than just "Whites Only" drinking fountains, segregated schools, no voting rights, etc.

Books are key to entering worlds you might never have the chance to really experience/visit. They offer readers an "escape" from reality.

Richard Wright was a young boy who was not able to check out books from the local library or even hold a library card for the sole reason that he was African-American. This book allows children to connect with the struggles that African-American children were up against in a way that they will truly be able to understand, as most children today have library cards of their own - the freedom to choose books they wish to read and to borrow them for some designated amount of time.
Richard Wright was not so lucky... he was not entitled to this freedom. In order to experience the sense of freedom that books offer (allowing readers to enter into worlds they might never really be able to visit), Richard Wright had to betray the laws in the United States and sneak into the library with a note from a white man giving permission to use the library card on his behalf. It was quite a clever move on Richard's part!
Definitely, definitely, definitely worth sharing!!!
If you're interested in finding out more information about any of the books reviewed or if you'd like to purchase the books, click the cover image for a link to Amazon.com.