A nationwide celebration, Deaf Awareness Week is celebrated from September 21-27, the last full week of Septmber, to promote deaf culture, American Sign Language and deaf heritage. Activities include library displays, interpreted story hours, Open Houses in residential schools and mainstream programs, exhibit booths in shopping malls with "Five Minute Sign Language Lessons," and material distribution.
-The Teacher's Calendar, 2008-2009
Litchfield, Ada B.
A Button in Her Ear.
1976.
Albert Whitman & Company.
Summary from Barnes & Noble:
A little girl relates how her hearing deficiency is detected and corrected with the use of a hearing aid.
This book is perfect - absolutely perfect to share with a child who has or who will be receiving a hearing aid. It's also the perfect book to use in classrooms to familiarize the classmates of a child with hearing aids. It will show children that a hearing aid doesn't mean something is wrong with a child... that they should be teased. Rather it shows that children have different needs - some wear glasses, that makes them special in their own way... definitely a book I'd like to have on hand for a classroom someday!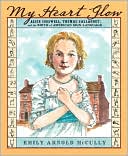 McCully, Emily Arnold.
My Heart Glow: Alice Cogwell, Thomas Gallaudet, and the Birth of American Sign Language.
2008.
Hyperion Books for Children.
Summary from Barnes & Noble:
Alice Cogswell was a bright and curious child and a quick learner. She also couldn't hear. And, unfortunately, in the early nineteenth century in America, there was no way to teach deaf children. One day, though, an equally curious young man named Thomas Gallaudet, Alice's neighbor, senses Alice's intelligence and agrees to find a way to teach her. Gallaudet's interest in young Alice carries him across the ocean and back and eventually inspires him to create the nation's first school for the deaf, thus improving young Alice's life and the lives of generations of young, deaf students to come.
I really enjoyed reading this story... and I think children will enjoy the "trueness" of it! It provides a wealth of information regarding the discovery and creation of ASL (American Sign Language). I had no idea that American Sign Language was based loosely from French Sign Language... the creation of sign language is described throughout and I think children will enjoy have a greater appreciation for those who use the language! It might also just inspire them to learn a big of ASL on their own, so that communication with the deaf is possible (and enjoyable)!
If you're interested in finding out more information about any of the books reviewed or if you'd like to purchase the books, click the cover image for a link to Amazon.com.