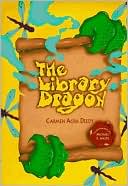 Deedy, Carmen.
The Library Dragon.
1994.
Peachtree Publishers
Guided Reading Level: M
Summary from Barnes & Noble:
Miss Lotta Scales is a dragon who believes her job is to protect the school's library books from the children, but when she finally realizes that books are meant to be read, the dragon turns into Miss Lotty, librarian and storyteller.
Reason(s) for Banning:
My Thoughts:
I
raved
about this book on an earlier post. Below, you will find my review!
Uh-oh! There's a new librarian at Sunrise Elementary - Miss Lotta Scales. Let's just say Miss Lotta Scales really does have lots of scales, she's a dragon! She takes her job too seriously though, thinking she's there to protect the books from the students and ends up turning the whole school anti-library. However, one daring little girl enters the library unknowingly and Miss Lotta Scales finally realizes what the library is really there for - to provide students with pleasure in reading! At the end of the story Miss Lotta Scales turns from the Library Dragon to Miss Lotty, the librarian and storyteller. This was an incredible story! There's even a Library Dragon Flip Doll to complement the story!

I don't see any reason for banning the book from public or school libraries. If anything, this book will instill in children an appreciation for caring for other people's property and books! I find
no
reason as to why this book would be banned... the use of fire is not being used in a negative way!
Your Job - Share your thoughts on the following topics on this post!
Should the book be on the banned book list?

Is it okay to be found on a library or book store shelf?

How would you share this book with your child/children?
If you are not familiar with the book, based on my post and the discussion of others, would you consider allowing your child to read/be read this book? Why? Why not?
If you're interested in finding out more information about any of the books reviewed or if you'd like to purchase the books, click the cover image for a link to Amazon.com.