Celebrated the first Sunday after Labor Day, Grandparent's Day honors grandparents, to give grandparents an opportunity to show love for their children's children and to help children become waway of the strength, information and guidance older people can offer.

-The Teacher's Calendar, 2008-2009
An opportunity for grandparents to show love to their children's children?!?! I thought that already happened on a near daily basis for those that have relationships with their grandchildren! I would have expected that this would be a day for children to show appreciation towards their grandparents, not vice-versus! Well, either way, the books I've reviewed for today show the special relationships children share with their grandparents! Hopefully your children and their grandparents will have the opportunity to share theses together!

Solomon, Sharon K.
A Walk With Grandpa: Un Paseo con Abuelo.
2009.
Raven Tree Press.
Summary from Barnes & Noble:
Ella and her grandfather find a peaceful walk in the woods leads to so much more. They express just how much they mean to each other by a simple word game they play together.
Over the past few years, I have become especially fond of bilingual books! This is just another one that I'm adding to my bookshelf! At a young age, children become particularly interested in language - both in using and learning it. Bilingual books offer children a chance to pick up bits and pieces of a second language, while at the same time reading and understanding their native language. Knowing a second language, while not 100% necessary, gives children an opportunity to see that they can communicate with people different from themselves. This book is perfect to use when trying to help children pick up on a second language! The vocabulary is simple and quite easy to understand... the companion
activity worksheets
provide plenty of learning resources to use in collaboration with this book. Definitely check them out!
As far as this being a Grandparent's Day book, it's perfect for that as well! What better activity for a grandparent and grandchild to spend a little together time than taking a walk and just talking! It's better than spending cash on a seemingly useless gift, when there are memories to be made that will last a lifetime!
Reid, Margarette S.
The Button Box.
1990.
Dutton's Children's Books.
Summary from Barnes & Noble:

An imaginative little boy explores the many pleasures that can be found in - and made from - his grandmother's button box.
I have always been a fan of
The Button Box
... perhaps its because of my love of my own button box and all that can be done with those simple little buttons... I don't know! But, most grandmothers have little trinket boxes that children find particularly amusing... Not to mention all that they have the opportunity to learn about from Grandma's past! Perhaps this Grandparent's Day, your child can spend some time with Grandma and discover one of her trinket boxes (and if Grandma doesn't have one, perhaps you can help get her started)! Again, making memories are worth more than any gift that could be given!
Lesson Plans/Reading Activities: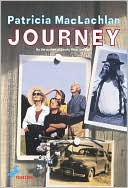 MacLachlan, Patricia.
Journey.
1993.
Random House Children's Books.
Guided Reading Level: S
Summary from Barnes & Noble:
Journey is eleven the summer his mother leaves him and his sister, Cat, with their grandparents. He is sad and angry, and spends the summer looking for the clues that will explain why she left.
Many, many children today are being raised by none other than their grandparents - left behind by their own parents for any number of reasons. Because of this change in family structure, I felt it was important to share a book in which children are being raised by their grandparents after being left behind by their mother. When this happens in today's society, children have to come to terms with the feeling of being "left" behind for whatever reason and becoming familiar with a new way of life - a new set of rules imposed upon them by their grandparents. Ultimately, in this book the children and their grandparents find even ground - making a "family" of themselves through a life of pictures taken by themselves. Definitely, definitely worth reading as a family together!
If you're interested in finding out more information about any of the books reviewed or if you'd like to purchase the books, click the cover image for a link to Amazon.com.