Two books for today's banned book post. Both focus on the similar topics and are appropriate for a Non-Fiction Monday posting!



Cole, Babette.
Mommy Laid An Egg: Or Where Do Babies Come From?
1993.
Chronicle Books.
Summary from Barnes & Noble:
In this hilarious twist on one of the most difficult discussions in a child's development, award-winning author Cole illustrates the one question all children are bound to ask--where do babies come from?
Reason(s) for Banning:
There is no reason listed on the ALA Banned Book list as to why this book is banned... I'll allow us to make our own assumptions after reading.
My Thoughts:
As a teacher, this is not a book that I would ever consider using in a classroom! I don't necessarily find it offensive, but rather it includes material that, with an elementary school aged child, it must be used when parents feel is the right time to share material on such a topic. The book does do a wonderfully job in accurately describing how babies are made - in many cases parents will find this too blunt for a child.

However, if parents do decide to use a book to educate their children about the details when the topic of "Where do babies come from?" is brought up, I found that this book would likely make for an enjoyable read-aloud at home, while being 100% accurate.

Based on my reading and reviewing of this book several times, I think that the book is certainly appropriate for children, with parental discretion and
only
when read with parents. It is accurate in the description of how babies are made and therefore parents won't feel as though they have to make up some kind of sugar-coated version of where babies come from. My only complaint in the book was
Here are some ways...
... mommies and daddies fit together.
I don't think it was necessary to expand on different sexual positions that will likely all result in a baby being conceived! Otherwise, I would think that as a parent, this book should definitely be available to you for consideration in discussing the topic...
you can use this at your own discretion, share as little or as much with your child as you feel appropriate that they can handle maturely...
It's ultimately up to you and that's why I feel banning isn't necessary.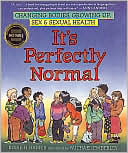 Harris, Robie H.
It's Perfectly Normal: Changing Bodies, Growing Up, Sex & Sexual Health.
1994.
Candlewick Press.
Summary from Barnes & Noble:
When young people have questions about sex, real answers can be hard to find. Providing accurate, unbiased answers to nearly every imaginable question, from conception and puberty to birth control and AIDS, IT'S PERFECTLY NORMAL offers young people the information they need — now more than ever — to make responsible decisions and to stay healthy.
Reason(s) for Banning:
Again, no specifics were provided - I guess we'll have to use our own imaginations upon reading!

My Thoughts:
As a teacher, I would probably not use this book in an elementary educational setting... I would however make this book available in a middle/high school health class, provided parents sign a release waiver, allowing their child(ren) access to such materials. Teacher should be available to support children in any situation that may arise in elementary school, but I do not think they should be providing children with information regarding sexual health, unless asked by parents for resources in which they (the parents) might use at home with their child(ren).

I found that this book to be very resourceful. It will definitely answer a whole wealth of questions that children may willingly ask or hesitate to ask for fear of embarrassment. Some of the topics are geared toward older children (teenagers) and parents should examine the book before freely placing it in the hands of children.

Based on my reading and reviewing of this book several times, I think that the book is certainly appropriate for older children - tweens and teens alike. While many adults may find the topics inappropriate, we must realize that like all humans, children have questions that they want answers to. If, as a parent this isn't something you're 100% comfortable discussing with your child, perhaps giving them a good resource book will answer some of their questions without causing embarrassment for either of you. I don't see anything wrong with using this book as long as children receive it from their guardian and use it in an appropriate manner!
Your Job - Share your thoughts on the following topics on this post!
Should the book be on the banned book list?

Is it okay to be found on a library or book store shelf?

How would you share this book with your child/children?
If you are not familiar with the book, based on my post and the discussion of others, would you consider allowing your child to read/be read this book? Why? Why not?
If you're interested in finding out more information about any of the books reviewed or if you'd like to purchase the books, click the cover image for a link to Amazon.com.