-The Teacher's Calendar, 2008-2009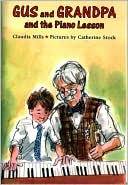 Mills, Claudia.
Gus and Grandpa and the Piano Lesson.
2004.
Farrar, Straus and Giroux.
Guided Reading Level: K
Summary from Barnes & Noble:
For Gus, the longest half hour of the day is spent practicing the piano. Why can't he be outside, shooting hoops with Ryan Mason? Even more painful are the lessons: Mrs. Moore complains about Gus's squishy fingers. But most painful of all is the piano recital. Gus has to play a piece called "The Horse Race," and he's not sure he will remember it. As a child, Grandpa played the violin, so he knows exactly how Gus feels. Grandpa also knows about something Gus will love -- making music with others -- and once again he shows Gus the way in a story with pictures that "reflect the sunny warmth of loving connections passed across generations."
This is the second book I've read, but only the first I've reviewed from the "Grandpa and Gus" series... I don't think it's a very popular series, but I definitely think it should be! The series is absolutely perfect for young boys, showing them in the comfort zone (mostly!), enjoying doing the things boys love - fishing, playing basketball, riding bikes, riding trains, playing baseball... the list goes on... this book in particular, shows boys learning to adapt to an activity they're not entirely comfortable with (Gus playing the piano) by showing how relatives can sometimes help draw the connections to draw boys into different activities! The entire series is worth sharing if you have young boys at home!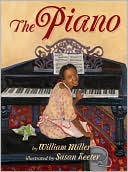 Miller, William.
The Piano.
2000.
Lee & Low Books.
Guided Reading Level: N
Summary from Barnes & Noble:

Set in the deep South of the early 1900s, this is the story of an African-American girl who learns to play the piano from her white employer. In return, she shows the elderly woman the power of friendship and caring. Luminous oil paintings skillfully evoke the mood and the time.
This book is incredible - the story, it's definitely one worth sharing, as the friendship between a young African-American girl and her White employer develops over time. Together, the two work to assist each other - this would be a particularly wonderful story to share if you have a classroom and see that children of different races are not working well together. Perhaps after reading this together, children will see that they all have something to offer one another and cooperative learning will slowly find its way into the classroom!
If you're interested in finding out more information about any of the books reviewed or if you'd like to purchase the books, click the cover image for a link to Amazon.com.